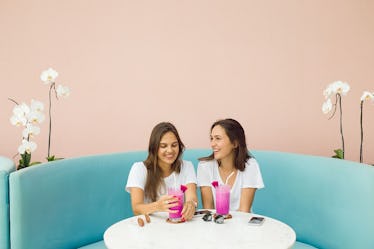 A Dermatologist Reveals 5 Ways To Deal With Dating When You're Prone To Sweating
When it comes to sweating in the summertime, you can act one of two ways: be grossed out or be realistic. If you are a human person, you probably sweat. When warm weather rolls around, you probably start to perspire even more. If you run hot like I do, you probably exude moisture in December, too. If you're dating during any of these months, you're probably not all that into sweating on your date. Being sweaty on dates can be uncomfortable, but it's very much something you can take care of.
First off, I want to establish that there is no sweat-shaming happening here. Bodies sweat for a reason — to cool us down — and some of us just happen to be more shvitzy than others. I live in New York, where window AC units only kind of, sort of work, and summers get hot and humid in a way that makes people (me) get so desperate for the beach they'll spend four hours in traffic to get to one. Add in first date nerves and potential hair blow-drying to the mix, and my makeup is melting just thinking about it.
I spoke to Dr. Anna Gauche, MD, a board-certified specialist in dermatology and cosmetic dermatology, to discover what tips and tricks she had to help with perspiration and dating. Because let's be real — sweating the bed when there is another person in it is no fun for anyone.