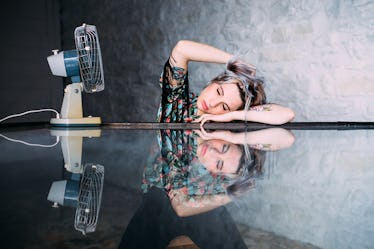 These 8 Unexpected Things Might Explain Why You're So Hot All The Time
I'll just come right out and say it: I'm a clammy gal. I have clammy hands, I have clammy feet, and I find that in the winter, even more than in the summer, when I'm indoors, I get very easily overheated. Oh, and when I wake up in the morning? Forget about it. I'm a ball of moisture! While it's not something that plagues me to the point of worry, I do wonder why I sweat so much when I'm not doing much of anything but sitting at my computer.
That being said, there are times my embarrassment meter rises when I shake hands with someone and my palms are all swampy, and I would prefer it not to feel like I'm in a sauna when I'm simply sitting in my room and reading a book. So if you, too, are looking for some quick fixes for perspiring pits or overheating in the office, I got you. We do not — I repeat, do not — have to be sweaty forever.
For all you know, there might be a very simple explanation for why you're so hot all the time; you've just never thought to consider it. Take a look below, and if some of these ring true for you, you aren't alone. You might just need to like, drink more water, or something — super simple!