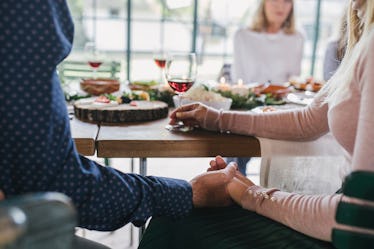 3 Things To Do If You Don't Like Your Partner's Family & Want To Avoid Any Drama
There comes a point in most serious relationships when it's time to meet your partner's family. You hope with all of your might that these people (who could one day be your in-laws) don't turn out to be awful human beings, but... we don't always get what we want. And while they are hopefully far from terrible people — if you don't like your partner's family, it's certainly something that is going to have to be handled delicately. Otherwise, it could end up driving a wedge in your relationship with your partner.
Regardless of how you feel about your partner's family, remember that they're the people who love your bae and have been with them since the beginning, so it's really important to do your absolute best to avoid conflict. But of course, this doesn't mean they can treat you like crap, and that your only option is to suck it up and pretend like everything is fine. It just means that it's in the best interest of your relationship to tread carefully without becoming a complete pushover. I spoke with author and relationship expert, Alexis Nicole White, to get the break down on the best way to deal with a SO's difficult family members.