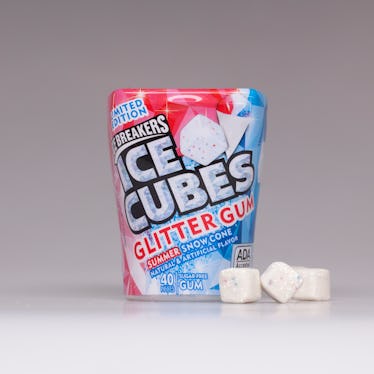 Ice Breakers' Newest Gum Is Glittery & Tastes Like A Cherry Snow Cone
Even though spring technically arrived on March 20, some parts of the country are still awaiting the warmer weather that generally accompanies the season. Alas, Mother Nature doesn't always work at the pace you'd like her to, so one company is skipping right over spring to help usher in that summertime feeling with its new, sparkly product. Ice Breakers' Ice Cube Glitter Gum is here, and its cherry snow cone flavor will transport you right to your favorite beach days of summer.
OK, this new flavor of gum probably isn't powerful enough to stop an April snowstorm, but the summertime-inspired flavor of Ice Breakers Ice Cubes Glitter Gum Summer Snow Cone might make continually zipping up your winter parka in the spring a little more tolerable. Not only will you get the "icy, cherry snow cone flavor" when you chew one of these new gum cubes, but Ice Breakers Ice Cubes Glitter Gum also comes covered with edible glitter, per a press release. Who knew fresh breath could be so glam?
Limited-edition Ice Cubes Glitter Gum Summer Snow Cone will be available nationwide on April 15 while supplies last. Sounds like everyone better mark their calendars to get their hands on Ice Breakers' "first-of-its-kind, glitter-sprinkled gum in the U.S."
You might want to stock up to save these sparkly cubes of gum for when summer actually arrives, too. As you not-so-patiently await summer days filled with sun and sand, though, you can enjoy the flavor of summer when you chew a cube of Ice Cubes Glitter Gum Summer Snow Cone. Plus, you can get all the snow cone flavor without inevitably spilling cherry-flavored syrup all over your clothes.
Apparently, you'll also be totally on trend when you enjoy Ice Breakers' new gum, because according to a VIX article highlighted in the press release, 2018 is "the year of glitter." Jessica Roiz writes in the VIX post that one food writer, Kat Odell, attributes to the glitter food trend to the popularity of the recent unicorn food trend. Odell explained the rise of the glitter food trend to Moneyish in December 2017. Odell said at the time, "It only seems natural that since unicorns are depicted with iridescent or shimmery gold horns that this shimmer or glitter would continue on to be the next trend."
Well, thank you unicorn foods, I guess, because now the glitter food trend has led to Ice Breakers' glitter-covered gum, and these sparkly gum cubes are seriously fun.
Since this glam gum doesn't hit shelves until April 15, I don't know exactly what they'll look like in person. But the images from Ice Breakers make it seem like you'll practically be living in a real-life KiraKira filter (you know, the one that makes it look like you're practically made of diamonds) when you open a pack of Ice Breakers Ice Cubes Glitter Gum.
It shouldn't be too surprising that a brand like Ice Breakers has added glitter to its newest gum. The brand famously "encourages fans to confidently break through the ordinary," and I'd say that sparkly gum that tastes like one of your favorite warm-weather treats is far from ordinary.
If you can't wait to get your hands on Ice Breakers Ice Cubes Glitter Gum Summer Snow Cone, then you can hold yourself over with some of the brand's other fruity flavors that are currently in stores, such as Cool Lemon, Raspberry Sorbet, and Tropical Freeze.
OK, the Ice Breakers Ice Cubes flavors sound seriously delicious, and I am ready for all of them to transport me to the warm summer days I've been dreaming of during this never-ending winter weather. Thankfully, everyone can enjoy a taste of summer (complete with a little sparkle) once Ice Breakers Ice Cubes Glitter Gum Summer Snow Cone arrives in stores on April 15.