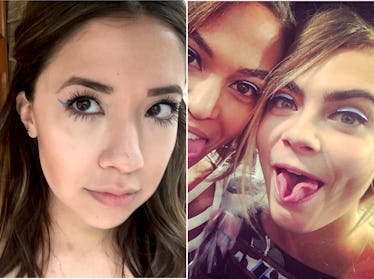 I Wore Blue Eyeliner Every Day Like Cara Delevingne & It's Not As Shocking As I Thought
Courtesy of Brittany Leitner/Cara Delevingne, Instagram
You've been there before: You're scrolling through your Instagram feed when you see your favorite celeb post about their favorite new product — a face serum, vitamins that will make your skin brighter, or a specialty food service. You can't help but want to be like the stars, but are the products worth it? In Elite Daily's new series, I Tried, we put it all to the test. We're trying those products as well as celebrities' health and wellness tips, recipes, and life hacks. We'll do the leg work and tell you what living like your fave star is really like.
When I was younger, I was only allowed to wear makeup in steps. First, in 7th grade, I could wear eye shadow. I had no idea what I was doing, and remember buying a simple three-shade palette from New York Color for about $2 at Walgreens. Then in 8th grade, I was allowed to add mascara to the mix, before finally being able to wear eyeliner — and whatever else I wanted — once I got to high school. Of course, by the time I could wear whatever makeup I wanted, I totally overdid it. I used to line my entire eye with black and thought I looked incredible. Since then, I've stayed away from looks that are too intense, but when I saw Cara Delevingne wearing blue eyeliner, something about it spoke to me.
I was instantly taken back to my earlier years of experimenting with makeup for fun, and realized it's been so long since I've taken any other beauty risks. Like any other experiment that you believe is drastic to your personal look, I found that for the most part, no one really was shocked by the electric color on my lids. So basically, you might as well have fun with your look as you please, and not GAF what anyone else might think of it.
Day 1: Office Blues
When I saw Cara Delevingne rocking her blue hue, I knew I wanted to do something similar: more in the aqua range instead of a harsh cobalt color. I also knew I'd want a liquid formula, since I usually wear a liquid black eyeliner on the top of my lids to create a cat eye. I've found that for my large, round eyes, the "minimalist" beauty trends that are popular right now aren't really what suits me best, so I love an extreme eyeliner wing, and it's kind of become part of my staple look for the last few years.
After doing some research, I chose L'Oréal Paris Infallible Paints Eyeliner in "vivid aqua," which has a pointed soft felt tip that I could use to make a precise wing. I added this look to my basic, everyday makeup routine, which includes It Cosmetics CC cream in light, Rimmel's Scandal Eyes mascara in black, some concealer on my under eyes, and instead of my usual black line, I swapped in the blue.
I wore this look to work on a Monday, and honestly, it gave me more pep when I was getting ready that morning. Just trying something new gave me something small to look forward to on Monday, instead of already looking forward to the weekend again.
Day 2: Baby Blue
On Tuesday, I headed to a last-minute concert with my roommate, and I was so glad to have an occasion to go a little "extra" with my makeup experiment. A music venue is the perfect place to rock blue eyeliner, and I could definitely see Cara rocking blue eyeliner to a nighttime event. For the show, I put an even thicker line and wing on my top lid than before, and then I posted a boomerang of the finished product and put out the feelers on what my friends thought of my new look.
Responses included "YAAAS," "Slayed the side eye!," and "OMG, love," so it's safe to say I got the encouragement I needed from fishing for Instagram compliments.
Day 3: Under The Sea
Since I'd thoroughly given the blue wing a try, I thought I'd tone it down and just do a few swipes under my eye. I usually don't wear any eyeliner on my bottom lids (I blame my makeup mistakes from high school), so I was curious to see if this would change up my look that drastically.
This is how I've seen tons of celebs rock blue eyeliner on the red carpet. Jessica Biel, Chloe Grace Moretz, and Shay Mitchell have all rocked blue liner on their bottom lids for the red carpet. For me, this was the least noticeable look I tried, but it still gives you a pop of color, especially if you're like me and stick to an all-black uniform on most days.
Day 4: Seeing Red
The most surprising thing about rocking blue eyeliner for a few days was how easy it was to forget I was wearing it at all. I think so often women are shamed for wearing too much makeup, especially in a place like New York, people like to keep their makeup routine simple. But the truth is, I love wearing makeup, and it hasn't always been easy for me to accept that and flaunt it around in a world that appreciates "sweat pants, hair tied, chillin' with no makeup on." My makeup routine usually doesn't take me longer than 15 minutes to apply in the morning, and sitting on my bed with a small mirror and getting ready is part of my daily ritual that actually relaxes me. It also often makes me more motivated to conquer the day ahead of me.
So, after wearing blue eyeliner for a few days, I decided to go even bolder and try a red. I love this shade by NYX called "hazy," but actually resembles more of an oxblood hue, in my opinion. The liquid formula was so easy to apply, and I had to be a lot more precise when putting this one on versus the L'Oreál felt tip applicator.
Final Thoughts
After wearing colored eyeliner every day like Cara Delevingne, I felt reinvigorated to try even more bold looks. If anyone made a comment about my look, it was to compliment me, which was definitely fun to have for a few days, too. I ended up realizing that I lost my excitement for makeup that I used to have when I was younger, and if I want to shake things up and try a bold eye (or even lip!) I shouldn't second guess myself so much in the future. I definitely recommend giving this look a try for a date night, concert, or even work. You're sure to get nothing but positive reactions, and being able to draw a perfect cat eye is now my number one favorite skill that I love to brag about. Go forth and be colorful, my friends.