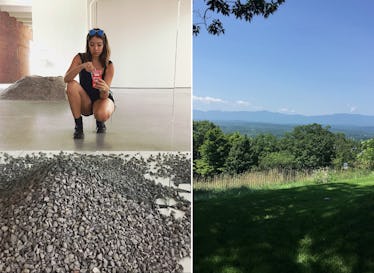 I Went On A Surprise Road Trip & I'm Convinced It's The Best Birthday Idea Ever
Don't you just love surprises? I guess I know a lot of people who would say no, but I can't get enough of them. In fact, I'm constantly telling my boyfriend he needs to surprise me more — to which he promptly responds that ruins the whole point of one in the first place. The thing most people don't get is that a surprise doesn't necessarily have to equal a grandiose gesture. A surprise can be a hot coffee from your favorite local spot waiting for you when you wake up; a mid-day flower delivery for no reason; dinner reservations at a new restaurant that opened near your office. So when I was invited to go on a surprise road trip with absolutely no information as to where I was headed, you better believe I was all in.
Pack Up + Go is a travel company that claims to take the stress of planning a trip off your shoulders while still allowing you to create a getaway catered to your interests. The Pack Up + Go website puts you in total control of the specifics: first, you set how much money you'd like to spend (the minimum is $400 for a multi-traveler option and $800 for a solo travel option), and then you take a short survey that gives the Pack Up + Go team an idea of what you're trying to get out of the trip (adventure, relaxation, exploration, etc.). The amount you're willing to spend indicates if the trip will be a road trip or will require airfare. If you select the $400/$800 option mentioned above, you'll be road tripping, but if you go up to $650 for a multi-traveler or $1,000 for a solo traveler, you'll be flying to your destination. Next, you check off a few of your travel interests (checking out local book stores, craft breweries, dive bars, etc.). The rest is up to the Pack Up + Go planners.
You can only "apply" for a trip during certain windows of time, which depends on how many bookings are received, so you'll need to check the Pack Up + Go website for when they're accepting trip submissions before making one. After you submit all your details and the survey, you'll receive a confirmation email and then another email a week before you're set to go with more hints as to where you're going.
For my getaway, I opted for a three-day road trip, said I loved checking out dive bars, book stores, art, and a mix of upscale restaurants and hole-in-the-wall places. I also made it clear that my main goal was to relax. The weekend I was set to go on the trip was the start of my boyfriend's birthday week, so we decided to make our getaway an extra celebration on top of his previously-planned birthday festivities.
About a week before we were set to take off, we got an email from the Pack Up + Go team with clues, including the weather forecast and a few hints about where we might be headed and what we should pack, which included walking shoes, an empty stomach (with the suggestion that there would be amazing restaurants in town), and clothes for an evening out to properly celebrate a birthday. A few days before the trip, we received an envelope in the mail labeled "do not open" — inside held all the details of where we were headed.
When the day finally arrived, we got in our Ford EcoSport and opened the envelope. (If you're planning a Pack Up + Go road trip, they don't rent a car for you, but if you're traveling by train or airplane, they do book those accommodation details according to your chosen budget.)
The first thing I saw was a piece of paper saying we were headed to Hudson in upstate New York, just a few hours north of Brooklyn. More details included a reservation set for that night at Wm Farmer & Sons restaurant for a celebratory birthday dinner and the details of our lodging. We also had reservations at The Wick, a candle factory-turned hotel. (Upon our arrival, the staff presented us with birthday drink vouchers, which was a thoughtful complementary touch, courtesy of Pack Up + Go.) But perhaps one of the best parts of the planning included multiple destinations to choose between on our way to, the way back home, and during our weekend stay in Hudson. Restaurant and bar suggestions — plus things to do — in three other cities nearby were also included, which really meant the sky was the limit for our weekend adventures.
Here's a breakdown of what we did on our three-day trip.
Day 1: Leaving NYC And Slowing Down Our Pace
On the way upstate, we took a nod from the PU+G suggestions list and visited Olana State Historic Site, where you can visit the mansion of the famous Hudson River School painter, Frederic Edwin Church. Right away I could feel my city stress melting away. The house is on top of the Hudson River Valley, with gorgeous views I didn't even know could be found in New York State. Built in 1872, the house was designed and influenced by Church and his wife's most recent trip to the Middle East. Painted tiles and mismatched stones adorn the outside of this mansion, so you can imagine how unique it must have been for its time.
We continued to Hudson where we found our hotel. We soon learned that it was right down the street from the restaurant we were supposed to have dinner at, with tons of bars and shops along the same route. PU+G's suggestion to bring walking shoes was definitely on point. Also, do you know how nice it is to just show up at a restaurant and have pre-made reservations that you didn't even have to deal with making ahead of time? We enjoyed oysters, steak, and cocktails and really went all out. (Though Pack Up + Go makes the reservations for you, you're responsible for paying the bill for meals as well as any activities you partake in.) It was the perfect end to our first night in Hudson.
Day 2: Exploring Upstate
On our second day, we slept in and had brunch at Le Perche. We then strolled down the main street in Hudson — Warren Street — to check out the shops. It was super hot and humid out, so to be honest we spent most of our day in our king-sized bed back at the hotel. (Because our goal was relaxation, I tried not to feel guilty about sleeping most of my day away.)
At night we headed to Half Moon, a fun dive bar near The Wick. There was a Spanish band playing hits and an active dance floor. It was so nice dancing in a bar that had enough space for dancing. That's a super rare find in New York City, so I made sure to take full advantage.
Day 3: Headed Home Through Beacon, NY
When it was finally time to get back to reality, we began our scenic drive home. Since we stayed indoors much of the day before, we wanted to soak up as much art and culture on our way back to NYC as possible. We stopped at the Dia:Beacon museum in Beacon, NY, where we strolled through exhibitions unbothered and grabbed a lemonade from the café just before taking off for the final stretch home.
Planning a trip with the help of Pack Up + Go was great because I didn't have to do any of the planning. Instead of being weighed down by the details of prepping for a getaway for two, I just handed off mine and my boyfriend's lists of interests to Pack Up + Go's travel planners and they did all the hard work for us. Little stressors, like making reservations and googling where to go, disappeared and we were really able to enjoy ourselves. The one downside of using the service was the fact that you can't plan a trip on a whim due to the cost and booking availabilities.
Once you get that surprise mystery envelope that holds all the details of your weekend, you're free to sit back and enjoy the ride.