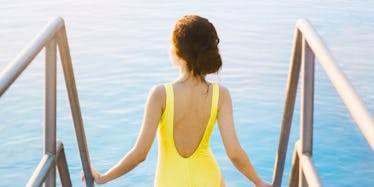 This Travel Agency Will Send You On A Cheap Vacation, But There's A Huge Catch
There's something about spontaneity that gives us a jolt. A sense of mystery can shake things up, but that thrill tends to dwindle while traveling to an unknown location. There are accommodations that need to be booked and itineraries that need to be organized, but how would you feel if the travel agency Pack Up + Go did all the heavy lifting for you?
This company will send you on a short vacation and do all of the planning. However, you won't know where you're going until you get to the airport.
Consider this the blind date of vacations; all you need to do is show up.
Pack Up + Go takes all the mundane work out of planning a trip, and all that's required of you is boarding the plane at the airport. But to where? This "mystery" travel agency allows you to set a price limit and a list of desirable locations before sending you to an unknown spot for three days. It's kind of like hand-picking the mystery, so it's not too overwhelming (too bad you can't do the same on a blind date... unless, of course, you're on The Bachelorette).
These quick escapes from reality are meant to celebrate the diversity right here in America. According to the Pack Up + Go site, "The United States has just as many destinations, oddities, and microcultures as anywhere else on Earth. Pack Up + Go is a celebration of our country's expansive resources, and embodiment of open mindedness, spontaneity, and excitement."
Sounds like a pretty exciting deal, no?
Here's how it all works: You'll receive an email with your travel information, directions about where to board the plane, bus, etc., and a weather forecast for the mystery city. Then, info will arrive in the mail about your trip -- but don't open it until you're about to board. Don't fret about the details, either. Pack Up + Go will provide a city guide and information about your travel accommodations, so you basically get to bypass the paperwork and just take off.
Multi-traveler weekend plane, train, or bus vacations start at $650 and go up to $1,000 if you're traveling solo. Multi-traveler road trips start at $400, and solo ones start at $800. Even better news? The site is teaming up with Teavana to give away three $4,000 trips, so now's the perfect time to enter and cure your wanderlust.