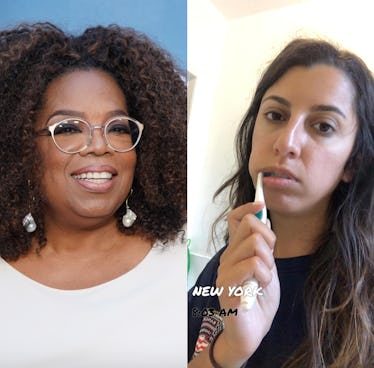 I Tried Oprah's Morning Routine & Here's What I Took Away From It
Getty Images/Courtesy of Candice Jalili
You've been there before: You're scrolling through your Instagram feed when you see your favorite celeb post about their favorite new product — a face serum, vitamins that will make your skin brighter, or a specialty food service. You can't help but want to be like the stars, but are the products worth it? In Elite Daily's new series, I Tried, we put it all to the test. We're trying those products as well as celebrities' health and wellness tips, recipes, and life hacks. We'll do the leg work and tell you what living like your fave star is really like.
My morning routine is — to say the least — very meh. I work from home so, TBH, there isn't much of a routine. I wake up at about 8:45 and lie in bed until I actually have to be logged on at 9. When the clock strikes 9, I pick up my laptop and log onto work. At some point between 9 and 10 I get out of bed to brush my teeth and change into workout clothes. I told you. It's very meh. So I tried Oprah's morning routine to spice up my mornings a bit. And, oh man, did her routine deliver.
OK, well... to be fair, Oprah's far more bougie than I am. It has to be taken into account that she has a net worth of almost $3 billion, while I have about $40 in my checking account as I write this. So there are aspects of Oprah's morning routine that are just simply way too fabulous for me to recreate as someone who doesn't live in a mansion with a staff of personal trainers and thousands of trees in her backyard. That being said, I think I managed to create a regular person (read: peasant) version of Oprah's morning routine that actually manages to get the job done — and I highly recommend it.