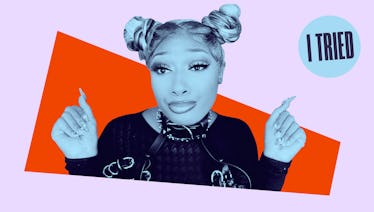 I Tried Megan Thee Stallion's Cut Crease Makeup Tutorial & It Was A Hot (Girl) Mess
YouTube/Revlon
When it comes to being a Hot Girl™, few people have the concept down quite like Megan Thee Stallion. It's not just because she literally has a song devoted to the vibe (hello, "Hot Girl Summer"); the singer/rapper radiates confidence while smashing gender norms in the music industry — and looks fierce while doing it. So, when I saw she did a video teaching others how to pull off her signature ~lewk,~ I couldn't wait to test it out and channel my own inner Hot Girl. The thing is, when I tried Megan Thee Stallion's cut crease makeup tutorial, my results were... very different.
Megan kicked off her Aug. 10 YouTube video for Revlon by admitting it's the first makeup tutorial she's ever done. The revelation was reassuring; as comfortable as I am with makeup (I love a good costume look or full-glam face), I'd never attempted the technique she was demonstrating in her video: the advanced and elusive cut crease. Used by pros to make eyes appear wider, the crease of the lid is defined by contrasting colors and minimal blending, resulting in a bold eye makeup look. The process seemed daunting, but the result was stunning. I had to give it a shot.
Even though Megan strictly uses Revlon products in her tutorial, I decided to try out her look with whatever products I had on hand. So, I pulled up her hilarious and confidence-boosting video, took a peek into my vanity, and picked out the products I would need to follow her routine step by step.