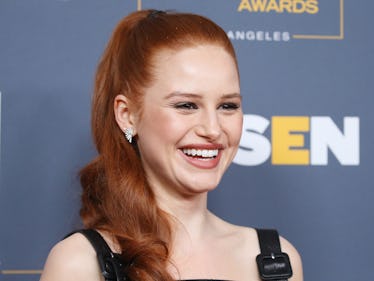 I Tried Madelaine Petsch's Morning Routine & Felt Cheryl Blossom-Level Fancy
MICHAEL TRAN/AFP/Getty Images
You've been there before: You're scrolling through your Instagram feed when you see your favorite celeb post about their favorite new product — a face serum, vitamins that will make your skin brighter, or a specialty food service. You can't help but want to be like the stars, but are the products worth it? In Elite Daily's new series, I Tried, we put it all to the test. We're trying those products as well as celebrities' health and wellness tips, recipes, and life hacks. We'll do the leg work and tell you what living like your fave star is really like.
You likely know Madelaine Petsch as Cheryl Blossom on Riverdale, but there's a lot more to the actor than just her fabulous CW character. To prove this, Petsch became a YouTuber — seriously, her bio on the platform reads, "I made a channel just so I could show you guys who I am when I'm not being Cheryl." Her videos mostly include snippets of her daily life, including baking endeavors, workouts, and glam sessions, but the video that really piqued my interest was the one featuring her 15-step morning routine. So, knowing my own wakeup procedures could use some sprucing up, I tried Madelaine Petsch's morning routine with the hopes of channeling some of her Blossom badass-ness.
Though I was excited to act more like Petsch, I approached this experiment with mixed feelings. There were some parts of her routine that I was excited to follow (hello, getting back into bed) and others that made me nervous (see the ice bucket face bath), but all in all, the whole process was pretty easy to replicate, didn't end up taking that long, and really got my day off to a invigorating start.
Take a look at Petsch's full morning routine below:
Here's what my morning as Madelaine looked like: