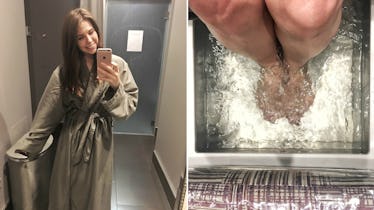 I Lived Like A Mermaid At This NYC Spa & The Urban Jungle Actually Felt Like A Beach
Julia Guerra
I am not, by any means, a fish out of water. I'm afraid of a strong current pulling me out to sea, I'd rather dip my toes in the pool than dive right in, and though I love the idea of bubble baths, I can't soak for more than a half-hour without getting restless. Despite my complex with water activities, though, Ariel was still my second favorite Disney princess growing up (Belle reads, so she takes first). And because I love the fantastical element and vibrancy of all things mermaid-inspired, I had to try Haven Spa's Mermaid Life spa package when the establishment extended the invitation. I mean, an entire afternoon of pampering and channeling my inner oceanic princess without ever having to set foot on a beach? Don't mind if I do.
Haven Spa is located on 250 Mercer Street in New York City, but let me tell you, once you step inside the spa, you immediately forget you're in the middle of the urban jungle that is Manhattan. And, honestly, as a Jersey girl, I'm always down for a trip into the city, so this entire experience was literally proving to be the best of both worlds for me.
I made my appointment for an early Friday afternoon, and after I arrived and filled out a bit of paperwork (standard procedure for new clients), I was given the grand tour by a very friendly young woman managing the front desk. The best way to describe the ambiance of Haven Spa is relaxation-chic: The locker room where I changed into the comfiest (and most gigantic) robe was quaint, yet comfortable, and once I got settled, I made my way into the lounge area for some quiet time before my services started.
The Mermaid Life spa package features two treatments for only $125: a makizushi wrap (which is $100 on its own if you're not into the entire package) followed by a luxurious mermaid pedi (which is $50 on its own). To be honest, I really wasn't sure what to expect from the makizushi wrap. I knew it was going to be a full-body service, so I was originally envisioning a masseuse swaddling me in seaweed like a sushi roll (makizushi, sushi — I was using context clues, OK?) and leaving me to soak it all in alone on a table for a half-hour. I'm not claustrophobic or anything, but I had a feeling that, if this were the case, I'd probably experience the worst itch of my life knowing I couldn't wiggle out a free hand to scratch it.
If this is your worst nightmare, too, you're in luck! The makizushi wrap has nothing to do with actual pieces of seaweed, but it does begin with your masseuse massaging a seaweed salt scrub all over your body. My sense of smell isn't that great, but let me tell you, the scent from this stuff was strong, but not in an overwhelming way at all. It was like my body was in NYC, but my senses were lying out on the beach. It was heaven, to say the least.
Once I was exfoliated from top to bottom — the treatment starts from the décolletage and continues down to your feet (cue me stifling a hard laugh once she reached my soles) — my masseuse doused my skin in a seaweed mask and wrapped me in a warm blanket. I stayed in this kind of burrito-like state for 10 minutes or so to let my skin absorb all the nutrients, and I easily could have fallen asleep right there on the table. In fact, I honestly would have, had it not been time for the masseuse to rinse my body off with warm water from the literal shower head that just so happened to be conveniently stationed in the corner of the room.
And, just to clarify, it is a little weird to have a stranger wash you, especially considering you're literally wearing nothing but a pair of underwear. But take it from someone who generally isn't super comfortable having strangers look or touch their body: Don't let this somewhat minor detail keep you from trying the service yourself. It's oddly enjoyable, and if you still feel uncomfortable, you can always wear a bathing suit. Plus, unless you're a regular, what are the odds you'll ever see this person again or that they're actually paying attention to anything but their job? You're beautiful, but this is business.
After rinsing, I laid back on a fresh towel and was massaged with an algae-based lotion before thanking my masseuse and slipping my robe back on. I had a little time to spare before my mermaid pedi, so I returned to the lounge before being summoned to the area of the spa entirely dedicated to nail art. And if you thought the wrap sounded fancy, just wait until you hear about what's included in that $50 pedicure.
I hadn't had a professional touch my feet or toenails in about a year or so before this experience, so needless to say, I was well overdue for a pedi. Deviating from my usual pink or purple hue, I chose a bright orange shade, because why not, right? To me, pastel orange is very mermaid-esque, and the day thus far already had me stepping out of my comfort zone, so carpe diem, I guess?
I handed my color over to the nail artist, sat back in a cushioned chair that swallowed me whole, and was treated to a foot and calf massage before the actual nail artistry began. It was glorious, but what really made the experience feel super beach-y was being served my choice of coconut, pomegranate, berry, or mango sorbet. I snacked on my icy, fruity treat in between conversation with the sweetest nail artist who taught me all about nail health, and by the time I was finished with my snack, she was all done with my now-gorgeous toes.
Back to the lounge I went to let my nails dry, and with 15 minutes to spare, I poured myself a mug full of peppermint tea and leisurely skimmed one of my favorite magazines (but not before I shamelessly snapped a photo and posted it to Instagram).
Walking out of the spa and into the sun that was relentlessly beating down on Manhattan that day, I could not have felt more connected to the beach, despite my physically being miles away from the shore. Spa days are some of my favorite days, but I'm generally not someone who ventures out of their comfort zone, so a facial and a Swedish massage are typically my staples. But if you're looking for something entirely different, or maybe something that feels like a tropical staycation in the middle of the urban jungle, I highly recommend stopping by Haven Spa for their mermaid package because, if I'm being completely honest, between the algae scrub, the oceanic fragrances, and dipping into a bowl of pomegranate sorbet, a traditional beach day doesn't even compare.
I bet even Ariel's swimming with jealousy right now. Sorry not sorry, princess.