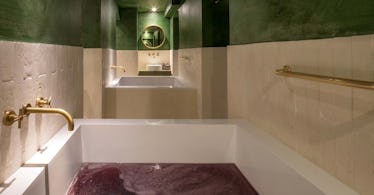 This Luxe Spa Treatment Involves Soaking Your Body In Wine, So Pass The Bottle Opener
Forget boring old water baths, I want to be showered in wine. Wine therapy spa treatments are becoming one of the hottest new beauty trends and there's one spa out there that has an entire treatment menu dedicated to the boozy beverage. So now, you can drink your wine, bathe in it, have a facial with it, and get massaged with it, too.
Until today, I thought only Jesus could turn water into wine, but based on some of Ella Di Rocco spa's vino-themed treatments, they may have figured out his trick. Ella Di Rocco is a london spa and speaking as someone who doesn't live in London, I may need to book a trip, stat. The spa offers what it describes as, "bespoke and non-invasive health and wellbeing treatments that complement and improve how your body feels, and boost vitality." These options include the typical spa offerings of massages and facials but Ella Di Rocco also has an entirely separate menu dedicated to wine therapy.
To me, wine therapy usually means indulging in a few glasses of Pinot Grigio after a hard day's work, but the beauty industry has just taken it to a new level. Ella Di Rocco's wine spa boasts that "the wine's antioxidant benefits are delivered straight to your skin, working to combat premature aging and encouraging a fresh, more vibrant appearance for your skin." Sounds like a delicious deal.
There are seven different wine treatments to choose from but the Sangiovese Bath has peaked my wine-loving interest:
Soak your stresses away in a tub filled with bubbling hot water, Sangiovese, Merlot and Cilegiolo wine with a concentrate of virgin grape juice. Rich in antioxidants, the Sangiovese Bath has a slimming, illuminating and de-stressing effect, and will leave your skin feeling revitalised.
I'm always down to be illuminated. My only question is whether or not I can also drink this bathwater? Maybe they'll serve me a glass of wine on the side? Or can I BYOB?
I really have.
"I then entered the wine bath, a tub filled with hot water, pretty rose petals, a mixture of Sangiovese, Merlot and Ciliegiolo Red Wine and the concentrate of virgin grape juice," quotes the spa from what I assume was a very happy customer. That's also, coincidentally, my description of what heaven would be like.
This picture implies that spa-goers get some vino to sip on so that's good news. Perhaps they coordinate your bevvy to your spa treatments. The Merlot Grape Seed Body Massage is another option that I speaks to me, so I'd like to pre-order myself a glass of Merlot to go along with that. Ella Di Rocco gives the lowdown on their special rubdown,
The massage will activate your circulation and relax all your senses simultaneously. Our grape seed oil contains 95% oligomeric proanthocyanidins (OPC), which promote youthful skin and improves elasticity, while helping to protect the skin from UV damage.
Sign me up.
Another added benefit of going to Ella Di Rocco spa would be that all of their products are all-natural, animal-free, and cruelty-free, so all this wine you'll be having is also guilt-free.
Cheers to that.
Alas, since this wine-themed spa is in London, all I can do for now is hope that this trend catches on stateside and that some more local spas start offering up a Rosé facial or a Prosecco bubble bath.
Until the wine treatments trickle over here, you'll be able to find me sipping many a glass whilst enjoying a classic water-filled bubble bath and wishing I could afford enough wine with which to fill my entire tub.