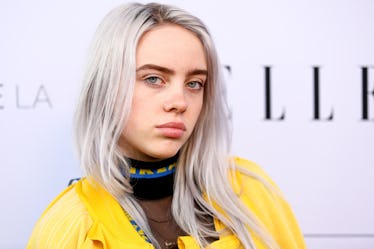 I Tried Dressing Like Billie Eilish For A Week & The Reaction Was Unexpected
Rich Fury/Getty Images Entertainment/Getty Images
You've been there before: You're scrolling through your Instagram feed when you see your favorite celeb post about their favorite new product — a face serum, vitamins that will make your skin brighter, or a specialty food service. You can't help but want to be like the stars, but are the products worth it? In Elite Daily's new series, I Tried, we put it all to the test. We're trying those products as well as celebrities' health and wellness tips, recipes, and life hacks. We'll do the leg work and tell you what living like your fave star is really like.
Let me first start by saying, I love Billie Eilish. I think she's one of the most intriguing people in pop culture right now, she's got killer style, and her music is breaking boundaries. So, when given the chance to try dressing like Billie Eilish, my response was a solid yes. That said, pulling off Eilish's style is no easy feat. The way she dresses is completely unique and all her own, so I definitely didn't want to make channeling her seem forced.
In starting off my sartorial experiment, I whipped out all the ~coolest~ looks from my closet, rummaged through my roommates' clothes, and hit the local mall, in search of my perfect Eilish aesthetic. Key items? Bucket hats, beanies, oversized necklaces, and pretty much anything black. Truth be told, I felt like I was returning to my 2006 emo-kid roots and all was right in the world again.
While I was, at first, a little hesitant about stepping out onto the streets of L.A. in my new, amped-up wardrobe, it turns out, I wound up living my best life that week. Here's my journey into the dark, brooding, and beautiful world that is Eilish's fashion sense.