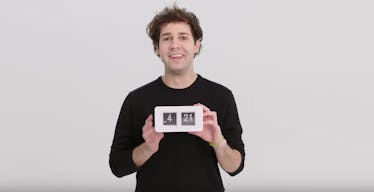 I Tried David Dobrik's Morning Routine & It Made Me Question Everything
YouTube
You've been there before: You're scrolling through your Instagram feed when you see your favorite celeb post about their favorite new product — a face serum, vitamins that will make your skin brighter, or a specialty food service. You can't help but want to be like the stars, but are the products worth it? In Elite Daily's new series, I Tried, we put it all to the test. We're trying those products as well as celebrities' health and wellness tips, recipes, and life hacks. We'll do the leg work and tell you what living like your fave star is really like.
David Dobrik has been the definition of content-creating goals since the days of Vine. The 23-year-old vlogger keeps his 16.6 million YouTube subscribers and 13.5 million TikTok followers entertained with all kinds of ridiculous hijinks, but even if his entire life seems video-worthy, he's got to act like a "normal" person every once in a while, right? Wrong. When I tried David Dobrik's morning routine, I realized he does everything, even the most mundane tasks, with his signature eccentric energy.
The idea came from a video in which Dobrik told Vanity Fair everything he does in a day. His first few hours were so much to unpack, I was completely spent by the time he reached 11 a.m. As someone whose morning routine consists of waking up and drinking coffee, the idea of spending about four hours starting my day like the YouTuber was mind-blowing.