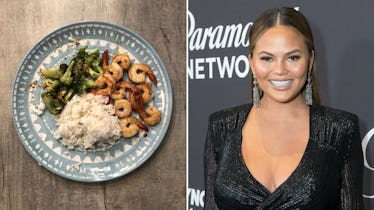 I Tried Chrissy Teigen's Blue Apron Meal & Took A Trip Down To Flavor Town
Courtesy of Karen Ruffini / Greg Doherty/Getty Images Entertainment/Getty Images
You've been there before: You're scrolling through your Instagram feed when you see your favorite celeb post about their favorite new product — a face serum, vitamins that will make your skin brighter, or a specialty food service. You can't help but want to be like the stars, but are the products worth it? In Elite Daily's new series, I Tried, we put it all to the test. We're trying those products as well as celebrities' health and wellness tips, recipes, and life hacks. We'll do the leg work and tell you what living like your fave star is really like.
Chrissy Teigen is like some sort of mythological unicorn: She's a talented model, she's drop dead GORGEOUS, and she's wildly successful at everything she does, from TV hosting to her on-point Twitter commentary. But what is most incredible to me is that, on top of all of her other accolades, she's also a mean cook. Seriously, her cookbook, Cravings, is a game-changer, and to anyone who doesn't think this woman could easily be a chef, you're buggin'. So when Blue Apron announced their partnership with Teigen, promoting some of her favorite recipes from her upcoming cookbook, Cravings 2, I was PUMPED to give it a shot. I love food. I love Chrissy Teigen. I love not having to go to the grocery store. So naturally, I was in. And let me tell you, my friends, Chrissy Teigen's Blue Apron meals are truly a sight to behold.
I've never ordered from Blue Apron before, but have heard a lot of good things from friends who swear by the service. Blue Apron is including one of Teigen's recipes in their subscribers' boxes each week until July 9, and while I was eager to try Teigen's recipes, I was also just excited to see how this whole "ordering your meals online" thing would pan out.
The Blue Apron x Chrissy partnership lasts six weeks and the meals are available only to Blue Apron customers, meaning you need a membership to get them. Each week is a different recipe, like sesame chicken noodles with bok choy, chinese chicken salad with crispy wontons, and a sneak peek recipe from Cravings 2, pork bahn mi sandwiches with pickled cucumbers and carrots. OK, my mouth is watering just writing this.
I live in an apartment complex, so when I received the text that my Blue Apron package arrived, I did a little happy dance, then went to the front office to pick it up. Well, the joke was on me because it's a pretty far walk and the package weighed nearly 20 pounds. Couple that with the fact that it was arm day at the gym for me, and I will tell you that I came back into my apartment huffing and puffing. Seriously, this box was a beast filled with goodies that I was pretty pumped to try.
I feel like the photo doesn't do the box much justice, though, so to help you fully understand, I will use my body for scale:
Do you see my biceps bulging? That box was, like, one third of my body. Even my dog was a little worried at its size (but she's 9 pounds, so that's justified).
Once I managed to open the box and take all the ingredients out, I got to work, starting with looking over the handy, dandy recipe card Blue Apron sends along with your meal.
The recipe card claims that this dish will take anywhere from 40-50 minutes, so I suited up (AKA I just stayed in my romper) and started prepping the ingredients.
Step 1: Prep those veggies!
First, I had to wash and dry the fresh produce, then peel and finely chop the garlic. Then I zested and quartered the lime, cut the broccoli into florets, and diced the jalapeño pepper and the bird's eye chile. Easy peasy.
Yes, this photo shows how excellent my chopping skills are, but really I just wanted to show you my badass-looking knife.
Step 2: Make the spicy pepper sauce.
This step was also relatively easy, considering it was just throwing the ingredients into a pot and adding the pre-packaged sauce and the pre-packaged light brown sugar. After the sugar dissolved, I transferred it all to a bowl, and it looked like this:
Not really the prettiest sauce I've seen in my life, but if it tastes good, I will shovel it into my mouth regardless.
Step 3: Cook the rice
OK people. It's time for some real talk. I consider myself a pretty good chef. I make bucatini carbonara, spicy fish tacos, and homemade Pad Thai like it's my job. I love food, and I love making food. But there's one very easy item that I usually screw up, and that's rice.
Fortunately, my husband and I invested in a rice cooker, so my cooking-rice-over-the-stove days have long since been over (praise the powers that be). But this recipe called for stovetop rice.
Gulp.
This is where the recipe card really came in handy, because it told me specifically how long I should cook the rice, and how often I should cover and stir. The result was lovely, fluffy rice:
Um, hello beautiful, what's your name?
Step 4: Toast the breadcrumbs and cook the broccoli.
Another very simple step — and very economical, too, since both ingredients can be made in the same pan right after each other. Any time I can re-use pots and pans for a meal, I'm a happy lady, because who the hell enjoys washing every pot and pan in your kitchen? Literally no one.
My husband snapped a fantastic photo of me concentrating very hard on not burning the breadcrumbs (which was a success):
And after the breadcrumbs, I just let the pan cool down, then went ahead and added the broccoli, along with some seasoning:
Cooking the broccoli was an easy task, though I thought that the amount of broccoli included in the package was a bit lacking for two people. But I figured that maybe we'd be overloaded on shrimp and rice, and the portion wouldn't be as small as I was perceiving it to be.
Step 5: Complete the dish by cooking the shrimp.
The last step was, unsurprisingly, also an easy one. I make shrimp pretty much on a weekly basis, though, so I may be a bit biased. After washing then patting the shrimp dry, I dropped them into a hot skillet, adding soy sauce and, of course, a boatload of chopped garlic:
Once the shrimp started to look pink and slightly opaque, I knew it was time to get those bad boys off the skillet and into a dish. At that point, all of my ingredients were completed, so the final step was plating my finished dish.
I'm not going to lie, this dish came together pretty nicely, and looked real pretty on my decorative plate. Behold:
There *may* have been a lime included that could have been added for presentation purposes, but it ended up honorably in my margarita glass instead. Still thanking it for its service, TBH.
The dish, from start to finish, took me about an hour to make — so just a bit longer than the expected cook time — but I also stopped to snap some photos in between steps, so that probably added on a few extra minutes. Either way, it was a relatively quick and easy meal to put together, and to me, felt pretty foolproof to create.
Final Thoughts
So, how did it taste? The shrimp were delicious. They were (forgive me for a lack of a better word) beyond moist, and the glaze it was cooked in was tasty AF. The broccoli florets were also super yummy, and tossing them in breadcrumbs is something that I will absolutely do for future meals. It added a really delightful texture that I wouldn't have otherwise discovered. But, as I initially assumed, there was too little broccoli for both me and my husband, so we really had to parcel those bad boys out between the two of us. To be fair, though, we both love our veggies, so the portion might be perfect for another couple.
The rice was fluffy and delicious, but the sauce that we drizzled over it was a little bit lacking. The flavor was definitely there, but the peppers that were cooked into it felt a little bit out of place. I'm thinking if the peppers and the chili were minced itty-bitty, rather than diced and sliced, that might have enhanced the sauce overall.
But I've got to give it to Chrissy. The dish itself was overall something I'd make again, just maybe altering the recipe ever-so-slightly to suit my taste preferences. And the minimal cleanup was a victory in itself, making the meal totally worthy in my (recipe) book.