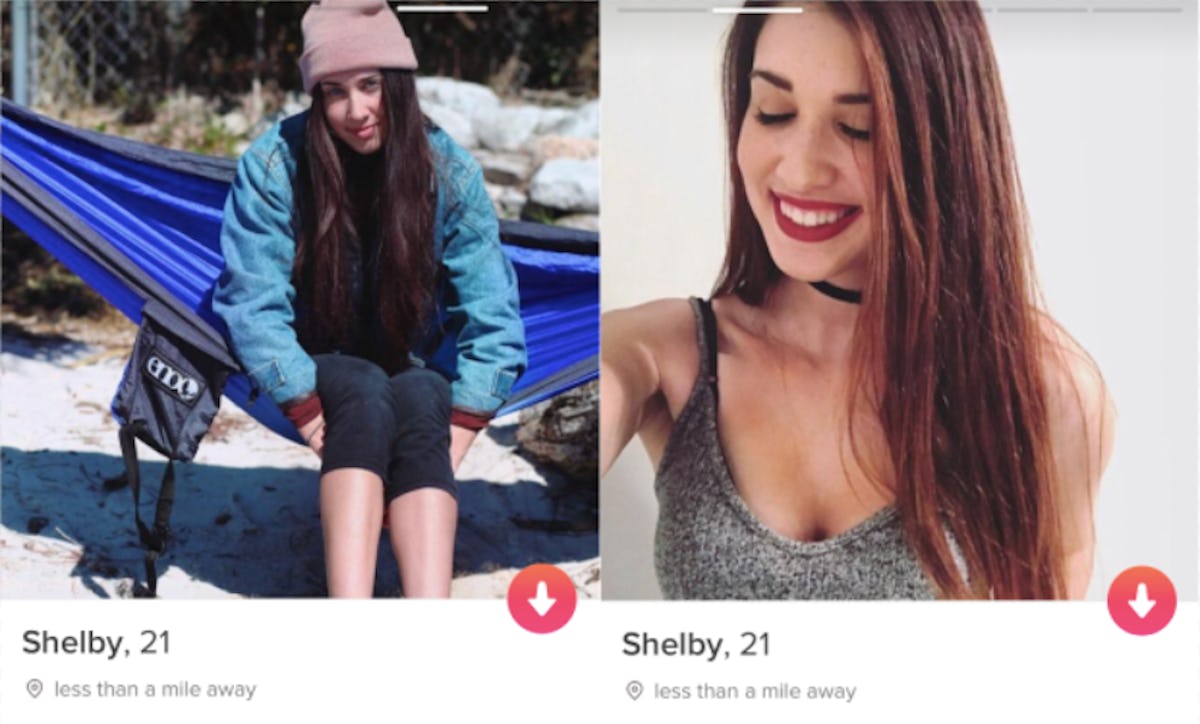 I Posted Photos With & Without Makeup On A Dating App & The Results Were Surprising
Everyone wants their dating app profiles to show the "best version" of themselves. And to many girls, that means being in full makeup. Too many times, my friends have texted our group chats with options for new profile pictures for dating apps. Almost always, the photos they wind up choosing are of themselves glammed up and dressed in their hottest outfits. Maybe this is when they feel the most confident, and that's okay. But it also makes me wonder if this is all in our heads. What do our matches really prefer? Photos with or without makeup? Bare-faced and all-natural, or caked, baked and contoured to the level of a beauty YouTuber?
As a girl who likes girls, I really didn't know which pictures my matches would prefer. I know that there are very few of my straight friends who would feel comfortable sharing photos on dating apps where they aren't red-carpet ready, believing that men are interested in "hot girls who wear makeup." But how does makeup vs. no makeup affect the LGBTQ+ dating world?
I wondered if girls would prefer profiles of other girls with mostly bare-faced pictures, finding these matches to be more relatable, down-to-earth, and genuine. Or maybe girls found a full face of makeup to be hotter, and thus more likely to warrant a Right Swipe.
So I decided to put this to the test and find out which look my matches liked best. I updated my profile with three pictures of myself with makeup and three with natural looks. I didn't want my matches to feel like they were offending me by flat-out saying something like, "I like you better with makeup on." So instead, I asked a more generic question that hinted at the same concept: "Which photo on my profile do you like best, and why?"
Here are the options I gave my matches.
1. Smiling With Sunflowers (Bare-Faced)
2. Red-Lipstick Birthday Selfie (Made-Up)
3. Post-Ugly Cry After A Broadway Show (Bare-Faced)
4. Awkward Black-Dress Bathroom Selfie (Makeup)
5. In A Beanie On The Beach (Bare-Faced)
6. Glam Last-Minute '20s Halloween Costume (Makeup)
Here's what they said:
Lisa, 23
I didn't waste anytime on small talk with Lisa, a lifelong New Yorker with a beer obsession.
She voted for #2, Red-Lipstick Birthday Selfie. Maybe the red lipstick just makes my smile pop, but I found it funny that Lisa describes my picture as "genuine." There is nothing genuine about a very edited selfie in full makeup. I took this alone in my room on my 21st birthday, right after I finished crying over the fact that my ex wasn't able to come celebrate with me since we were in a long-distance relationship. Although it turned out to be a fun night, I wouldn't describe my smile as "genuine" in that moment.
Anyway, one vote for makeup.
Miranda, 21
Miranda mentions on her bio that "if you have dogs, I will most likely love them more than you." Definitely a conversation starter.
Miranda's oddly specific (thanks?) response favored #6, Glam Last-Minute 20's Halloween Costume.
So far, two votes for makeup.
Emilee, 21
This fashion student warned her matches, "If i'm not in class, I'm at work. So, good luck trying to make plans." Lucky for me, she still had time to answer my question.
Emilee's favorite picture was #1, Smiling with Sunflowers, making her the first match to vote for the bare-faced look.
The current total: two votes for makeup, one vote for bare-faced.
Tasia, 21
Tasia says in her bio that her "cat keeps swiping right" and that she loves "hiking, stargazing, nature, writing, chemistry, tattoos, tea and warm weather." She's a talker who is eager to share her interests, and messaged me with the most formal introduction I've experienced to date.
A second vote for Red-Lipstick Birthday Selfie, and a third vote for makeup.
Mikala, 22
According to her bio, Mikala is a post-grad who's road-tripping with friends.
She was in New York City long enough to Swipe Right and match with me.
A first vote for In A Beanie On The Beach and a second vote for no makeup.
Mikala's reasoning for liking that photo is that it gives the impression that I'm laidback and "chill." Since most of my matches voted for photos with makeup, Mikala's choice was definitely different.
Alexis, 21
Alexis is a criminal justice student who chatted with me about her plans to apply to the police academy. Eventually, I asked her which picture of mine was her favorite.
Red-Lipstick Birthday Selfie was definitely a crowd favorite, and Alexis brought in the fourth vote for made-up photos.
I liked how she chose a picture that was similar to a picture she would take. It shows she's looking for someone who is relatable and approachable.
Claudia, 23
From her pictures, I can tell Claudia loves beach and sports. After talking to me about hockey for far too long, I steered the conversation away from sports to moving to New York.
Surprise, surprise. Five votes for made-up photos and four votes for Red-Lipstick Birthday Selfie. (I never realized I looked so good after crying?)
Maggie, 23
With a bio filled with every animal emoji, Maggie loves nature and is passionate about wildlife conservation. Most of her pictures showed her with no makeup on, hiking, or with wild animals.
She gave the most popular answer — a sixth vote for made-up photos and a fifth vote for Red-Lipstick Birthday Selfie — which I thought was surprising, considering she wore minimal makeup in her photos.
Scarlet, 23
Scarlet is an artist from Brooklyn. With only one picture and no bio, it was hard to have a first impression of her. But her answer was probably the most confusing yet.
I don't have any pictures of me in a sports stadium on my profile, so at first I thought Scarlet accidentally looked at someone else's profile by mistake. A while later, I realized that in my Awkward Black-Dress Bathroom Selfie, there's a framed picture of my college's football team in the background. It's really blurry and only half of the frame is in the photo. This felt like a strange reason to like a photo best, but maybe Scarlet liked the idea of potentially having something in common.
Anyway, since I'm wearing bright lipstick and eyeshadow in this embarrassing mirror selfie, that makes a sixth vote for makeup.
The Final Tally
Smiling with Sunflowers (bare-faced): 1
Red-Lipstick Birthday Selfie (makeup): 4
Post-Ugly Cry After a Broadway Show (bare-faced): 0
Awkward Black-Dress Bathroom Selfie (makeup): 1
In a Beanie on the Beach Shot (bare-faced): 1
Glam Last-Minute 20's Halloween Costume (makeup): 1
Makeup: 6
No Makeup: 2
The verdict: my matches liked photos of me wearing makeup best.
I had no idea what the outcome of this experiment was going to be. I thought that maybe women would be less judgmental about makeup than the typical man would be, or at least more divided when it comes to what look they prefer. Maybe it has to do with how we feel when we wear makeup — I really do feel more confident when I take pictures wearing makeup than I do without it. In fact, when choosing pictures for my profile for this research, I struggled with finding pictures of me without any makeup at all. Maybe my matches picked the photos with makeup because they could see that I was more comfortable and confident. But maybe they just think lipstick is sexy. And I mean, same.
If you're struggling to choose photos for your profile, I'd suggest picking pictures where you feel your best. None of my matches said they chose a favorite photo specifically because I was "wearing makeup" or because it was the "hottest" — instead, the words they used to describe their favorite photo were "genuine," "cute," and "radiant." Nothing is more deserving of a Swipe Right than being yourself.
Check out the entire Gen Why series and other videos on Facebook and the Bustle app across Apple TV, Roku, and Amazon Fire TV.
Check out the "Best of Elite Daily" stream in the Bustle App for more stories just like this!