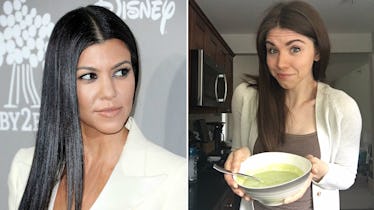 I Made Kourtney Kardashian's Infamous Avocado Pudding & Lived To Tell The Tale
You've been there before: You're scrolling through your Instagram feed when you see your favorite celeb post about their favorite new product — a face serum, vitamins that will make your skin brighter, or a specialty food service. You can't help but want to be like the stars, but are the products worth it? In Elite Daily's new series, I Tried, we put it all to the test. We're trying those products as well as celebrities' health and wellness tips, recipes, and life hacks. We'll do the leg work and tell you what living like your fave star is really like.
The morning started off like any other: I rolled out of bed, brushed my teeth, and made a beeline for the kitchen to assess the breakfast situation. With no Cap'n Crunch to curb my 9 a.m. sugar craving and an empty egg carton mocking me from the recycling bin, it was then that a ripe avocado shined like a beacon of hope in the center of my fruit basket. Would I spread this creamy green mash over a slice of toast, living up to the #basic millennial stereotype I've come to own? Nope. I made Kourtney Kardashian's avocado pudding instead, to see if the eldest Kardashian sis was on to something by spoon-feeding healthy fats by the bowl-full first thing in the morning. And you might not believe me when I say this, but avo pudding is actually all that.
Was that an earthquake I just felt under my feet, or was it the roar of your laughter that was strong enough to make the ground shake? I'm sure you're skeptical because, trust me, I was, too. In fact, I have a history of taste-testing Kourtney's favorite breakfasts, and let's just say I've learned firsthand that this woman loves her greens. She also does a damn good job fitting them into her meals first thing in the morning.
But an entire bowl of blended-up avocado? Come on, Kourt. It's not exactly wrong, but it doesn't exactly sound right, either. Still, if any of the Kardashians have mastered eating healthy and what that means for their body, it's Kourtney. So when my editor asked if I would try Kourtney Kardashian's avocado pudding recipe, I accepted the challenge without hesitation. How bad could it be, right?
Kourtney Kardashian ate avocado pudding, so I wanted to eat avocado pudding — but first, I needed to gather my ingredients.
A quick disclaimer before any of you try to @ me for not following the exact recipe on Kourtney's app: There are a bunch of avocado-pudding-à-la-Kourtney-Kardashian recipes floating around the web, so I chose the variation that worked best for me and the items I already had in my kitchen.
Now, according to Vogue, Kourtney adds "E3Live blue-green algae, bone broth protein powder and MCT oil" to her avo pudding, but I definitely wasn't about to mix powdered bone broth or algae (no matter how Insta-worthy that would have been) into my breakfast bowl. No offense if you're reading this Kourt, but I'm just not that adventurous yet. Instead, I stuck with the avocado pudding recipe the 39-year-old relayed to TODAY, which only requires three ingredients: one whole avocado, one cup of coconut milk, and two teaspoons of Manuka honey.
So before tossing these items into a blender and taste-testing for myself, I wanted to know what was so nutritious about this combination that keeps Kourtney indulging, spoonful after spoonful. According to TODAY, this mama of three considers avocado pudding to be a "power meal in a cup." BuzzFeed also notes that Kourt swears the dish "helps keep her feeling full until lunch," which I'm willing to bet is because one California avocado contains upwards of 24 grams of fat — healthy fat, of course, but hey, that's still got to be filling.
As for my liquid component, I know this Kardashian's been open about her issues with dairy, so I figured that's why her signature recipe calls for coconut milk. I didn't have any on-hand, but I did have unsweetened almond milk sitting pretty in my fridge, so I figured Kourt would approve of this swap. And what's pudding without a little sweetness added to it, right? That's where the honey comes in. Plus, Manuka honey specifically boasts antiviral and antibacterial properties, not to mention it's ah-mazing for your gut.
Once I had a general idea of the nutritiously dense indulgence I was about to consume, I tossed all the ingredients into a blender, said a prayer for my taste buds, and took my first spoonful.
I'll admit, once all the ingredients were pulsed into this kind of green, soupy consistency, I almost gagged. The pudding's super vibrant pigmentation was a combination of lime and mint, while the texture wasn't as thick as I had imagined, but it was definitely more solid than it was liquid. The moment of truth came and went: I brought a heaping spoonful up to my lips, opened my mouth, and took my first taste.
Honestly guys, I have to say: It was not bad at all. Personally, I love avocado, and if you time it just right so your avo is perfectly ripe, the flavor you know and love is going to shine through. Having said that, I definitely wouldn't advise making avo pudding out of overly ripe avocados you're looking to get rid of, but if you have one to spare and you're kind of tired of avo toast, Kourtney's staple isn't such a wild alternative. Also, even if you're cutting back on sugar, do not skimp on the Manuka honey. It definitely enhances the flavor.
I will say, however, that as yummy as Kourtney Kardashian's avocado pudding recipe is, I don't know if I could actually finish an entire bowl of the stuff. That's a lot of avo, and a lot of gulping down the same flavor over and over again. I'd be curious to experiment with toppings here, as I think maybe some kind of granola or coconut flakes would add a satisfying crunch to the bowl. And, if you're a chocoholic like myself, maybe sprinkling in a tablespoon of cacao would take this recipe up a notch.
In general, though, I think Kourtney has a winner here. It just goes to show you really can't knock a recipe until you've tried it yourself.