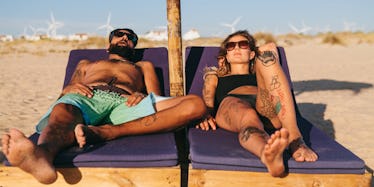 I Asked All My Tinder Matches Why Their Last Relationship Ended & The Answers Were Heartbreaking
Generally, when people sign onto Tinder, they don't usually expect to dive into intensely personal conversations about their past heartbreaks. Well, I went on Tinder, swiped right, and asked my matches why their relationships ended, and was surprised at how deep people got with me right off the bat. It helps that I'm incredibly nosy and just kept asking questions. But, I mean, it's Tinder – usually you just swipe right on whoever you find attractive, and you'll make small talk for a little bit, and maybe eventually meet up. But people really opened up about their love lives and romantic wounds, and some of them legitimately almost made me cry.
Tyler, 25, told me he had been dating his girlfriend for 10 months when they broke up. He was dealing with the death of his father when his girlfriend's dad had three strokes, paralyzing him on the left side of his body.
"I kinda 'relapsed' and it felt like I was goin' through it all again," Tyler said. "So mentally, I kinda shut down and blocked everything out. I tried to support her the best I could, but with the pressure of her going for her P.h.D, [getting] a farm, and business that her dad left her [...], and the fact that her father isn't her father anymore, things kind of just fell apart and she broke up with me."
Tyler still has feelings for his ex. Before they broke up, he moved from Pennsylvania to Tennessee to be with her for two months to help her with household chores and studying. Once he moved back to Pennsylvania, the distance between them didn't help their relationship.
Unlike Tyler, my next match never saw his breakup coming.
"She just left me," Emzz, 24, says about his ex-girlfriend who he was with for four years. "She didn't [give a reason]. She said it's not working, but I think she just wanted it to end. I thought everything was fine."
Meanwhile, Eddy, 18, attributes his compulsive lying to the end of his 10-month relationship.
Face has been obscured for Eddy's privacy at his own request.
"My depression had molded me to believe that if I never let anyone truly close to me, I wouldn't be hurt by them," he says. "So I lied to them consistently and they found out, and soon after broke it off."
Cheating also plays a role in some breakups.
Jared*, 23, was with his ex for 10 months. When she cheated, she told him about it and they took a break. They then got back together — but Jared says something felt off. "I asked if she was still seeing him, and she said yes," he says. They broke up again after that.
Unfortunately for Justin* and his ex, Disney World wasn't the happiest place on Earth for the two of them. They went on a vacation there, and Justin felt like his then-girlfriend of a year was acting strangely. He suspected that she cheated on him, and broke up with her after the trip.
"I always ended up for some reason worrying about my partner," says Tom, 21. After being in a relationship for two years, he broke up with her.
Kevin, 21, felt like his girlfriend of almost a year didn't treat him well. He says that he couldn't go somewhere without her calling, and she didn't want him to go out. "So I did what I had to do to be truthful to who I am and who I needed to be," he says.
Distance can sometimes be the cause of the end of a relationship.
Freddy, 23, felt the sting of a broken heart when his ex left him for her best friend after two weeks. "But," he says, "it was for the best. She was going to move to a new city and I enlisted into the Navy."
Usually, my questions to people I match with on the app are lighthearted and superficial, just tapping into shared interests and whatever I see in their photos. But by asking these people about their last breakup, it felt like I was going beyond the surface level to get to know them. I learned so much about these people just by asking something a little different that encouraged them to open up. Even though I don't recommend asking a potential date to describe their most recent baggage from the start, it made me realize you can connect with people anywhere if you just ask.
*Name has been changed.