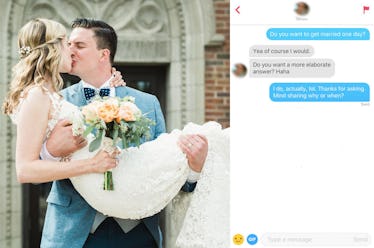 I Asked All My Tinder Matches If & When They Wanted To Get Married & Their Responses Had Me Shook
I have mixed feelings about marriage. Most days, I think I'm not cut out for it, but for silly reasons. "I like having my own closet space and bathroom sink," I rationalize, knowing fully well these are minor fixes on any HGTV home improvement show. But, other days, I feel more strongly about my disinterest. I'm uncomfortable with the grandeur of most wedding traditions. Plus, the thought of signing a contract that legally binds me to another human being "for better or for worse" is my personal hell. Obviously, I asked my Tinder matches if they wanted to get married because LOL, why not?
"Hey, I probably, absolutely, maybe never want to do this thing we're supposed to do in roughly two years if all goes well but, um, how about you?!"
Totes normal, I know. Anyway, I figured they must have given some thought to this before signing up for a dating app. My personal grievances aside, I get that a lot of people view marriage as their long-term goal when dating. The rationale, I assume, is, well, why date if not to get married? This might be where my real issues with marriage lie. I get into relationships to share inside jokes with someone, to have a designated travel buddy, and, ultimately, to enjoy each other's company. And I don't think we need to be married to do any of those things.
In the past though, friends of mine have suggested I get married for very different reasons, like these.
You get why I have doubts about the sanctity of marriage, then.
Unfortunately (or fortunately?) for me, I don't have a lot of people to back me up on this. All of my Tinder matches revealed that they would want to get married eventually. A few of them even say they're ready right now. Um, guys, I'm going to need a minute.