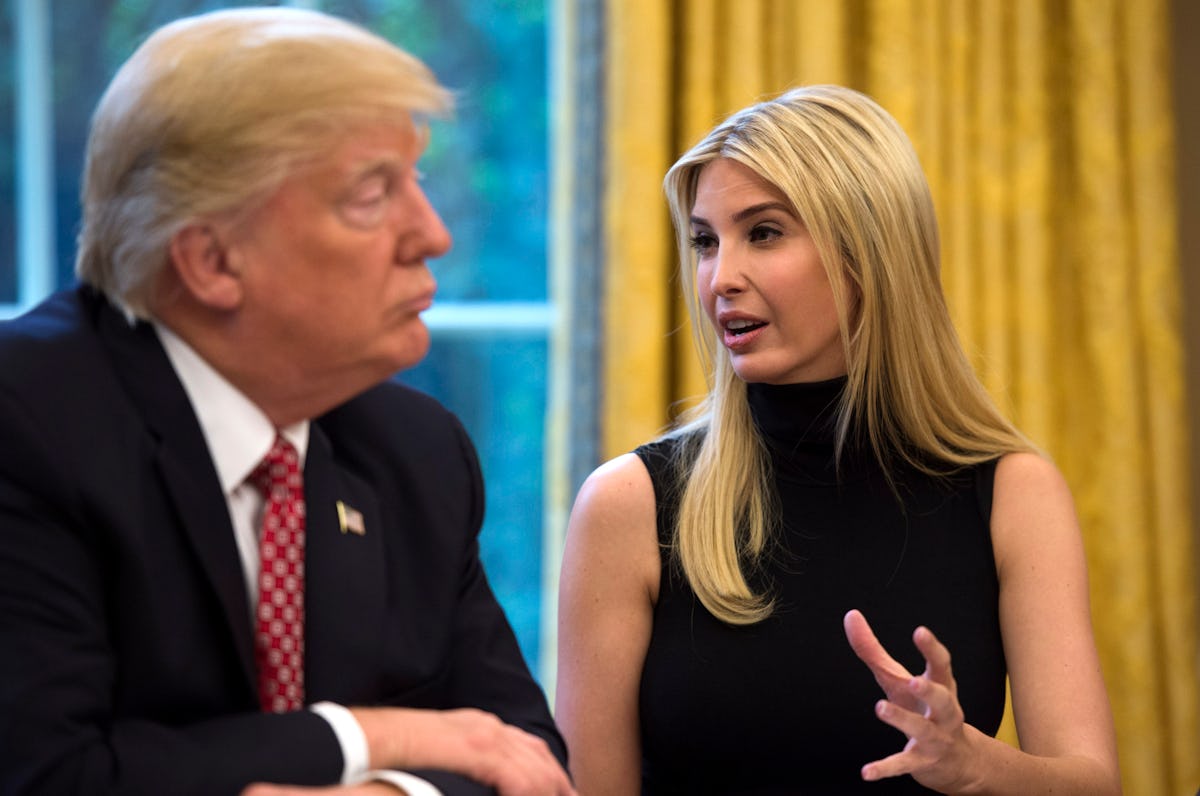 Howard Stern Discussed Donald Trump's Creepy Comments About Ivanka & It's A Lot
Pool/Getty Images News/Getty Images
President Donald Trump has always been an open book when it comes to his daughter, Ivanka Trump. However, if you ask me, sometimes he's way too candid — like all of the times he ogled over her in interviews with Howard Stern. Recently, Howard Stern discussed Donald Trump's comments on Ivanka Trump for an upcoming episode of David Letterman's Netflix series My Next Guest Needs No Introduction, and (of course) they're disturbing AF.
In the episode — which is scheduled to air on Thursday, May 31 — Stern opened up about multiple interactions that he had with Trump before he took the presidency. The most unsettling reflection, though, happened when Stern discussed the time Trump shared his list of the "great beauties" of the world, according to Deadline.
Trump told Stern in 2005 while appearing on his radio show, "First of all, the great beauties are not actresses. … Anyone who works in the entertainment industry, really, I've only seen 6s and 7s." Stern challenged Trump by saying Angelina Jolie should be at the top of any such list, but the business mogul scoffed at his suggestion, deeming the actress a "seven." Trump then added, "You know who's a great beauty? My daughter, Ivanka. Now she's a 10!" At the time, Ivanka was just 23 years old.
Now, before you start to think his response was just something that rolled off the tongue, Stern also told Letterman that Trump answered his questions "in a very sincere and thought-out way." Here's a visual of what I'm guessing that looked like:
It's not the first time that Trump has said such things about his daughter to Stern, though. In 2016, CNN published newly uncovered audio of the now-president raving about Ivanka's figure in previous years during his appearances on Stern's show, and even gave the host permission to call her a "piece of *ss." In one particular interview published by the outlet, which happened in 2004, when Ivanka was 22, Stern remarked that Ivanka "looks more voluptuous than ever," and asked if she had gotten a breast augmentation. Trump openly shared that his daughter did not receive breast implants, before adding, "She's actually always been very voluptuous." He continued, "She's tall, she's almost 6 feet tall and she's been, she's an amazing beauty."
Um, WHAT?!
During an interview with Rolling Stone in 2015, he even reportedly went as far to say that there might have been more between them if the circumstances were different. He said: "Yeah, she's really something, and what a beauty, that one. If I weren't happily married and, ya know, her father…."
... I swear I'm not making this stuff up.
What's even more surprising is that he made the same comment nearly a decade before, in 2006, during an appearance on The View. When discussing the possibilities of Ivanka posing for Playboy, he nonchalantly added that he might've been open to dating her if she weren't his daughter. He told the hosts,
Ivanka posing for Playboy would be really disappointing… not really. But it would depend on what was inside the magazine…I don't think Ivanka would [do a nude shoot] inside the magazine, Although she does have a very nice figure. I've said that if Ivanka weren't my daughter, perhaps I'd be dating her.
To make matters even more cringeworthy, Ivanka was sitting right beside him the entire time. It really doesn't get more awkward than this, you guys.
Welp. Another day, another series of crude comments from Trump about his very own daughter. But at this point, I've just gotta ask: is anyone really shocked anymore? (Don't answer that. I'm sure I already know what you're gonna say.) My only hope is that he'll back off from these kinds of remarks going forward 'cause it's all just become way too weird and creepy.