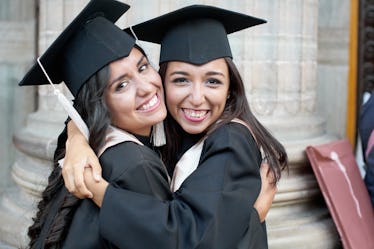 How Your Relationship With Your Sister Is Different In College & After Graduation
Everyone has probably been telling you from the get-go that college is a very special time in your life when things are bound to change. You may be tired of hearing it, but it's true — and things continue to change even after you graduate. Someone who will stick by you through it all is your sister. She has been there for you since you were both in diapers, and she's truly your rock. If you have a special bond with your sis, you may be wondering how your relationship with your sister changes in college, and then after you graduate.
Well, sometimes the changes are very subtle. I probably wouldn't have even noticed them myself if I hadn't taken a second to really look back at how things were in college, and compared them to my post-grad life. The subtle changes could come from the way you communicate with your sis, or what you talk about. The bigger changes — like distance from each other — are a bit more obvious.
If you have a sister, you will most likely relate to these six ways your relationship with her has changed. Maybe you haven't even reached that point in your life just yet, so prepare yourself for what's to come. No matter what, your sis is your best friend and number one girl.