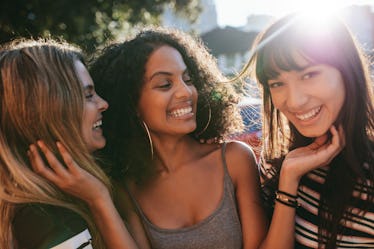 8 Ways Your Best Friends Since Day One Complete You Like No One Else Could
True best friends can be difficult to find, but when once you do lock down your forever crew, you hold onto them tight. You may have a bunch of friends, but you know that your relationship with your besties is something completely different. It's at times indescribable how you can click so easily like missing puzzle pieces who have now found each other, but there are certain things that perfectly define how your best friends complete you.
Time is a true measurement of how a friend turns into a best friend, but there are also times when you just meet someone and know right away that they are BFF material. It helps when you're able to share these eight things together that make a friendship the forever type. That line from Jerry Maguire isn't exclusively reserved for couples. You can tell your best friends, "You complete me," and they'll know exactly what you mean. It's like you're soul sisters.
I'm always happier whenever my best friends are around. Even on my worst days, I can laugh until I cry, because they're there to crack me up. I'm also totally comfortable hanging out with them, not doing anything at all. In fact, some of our greatest memories are days when we're relaxing, watching Netflix. It's because when you're with your best friends, you can make the laziest of Sundays the most fun days ever, and that's why they are your crew.