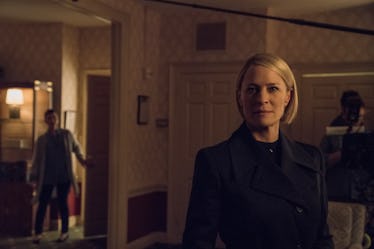 Netflix Says The 'House Of Cards' Ending Is "Fitting" & I'm Relieved
Netflix
This past weekend, it was Netflix's turn to impress the assembled reporters at the Television Critics Associations summer tour. While most of the shows they brought to present were the newer ones, including One Day At A Time and the upcoming Disenchantment, at the Executive Session, Netflix's VP of original programming Cindy Holland also addressed some of their older fair, including the now retiring House of Cards' final season. How will House Of Cards end? Holland believes the series is going out the right way.
House of Cards' sixth season was planned to be the last one from the beginning, but Netflix pushed the announcement up last October, when accusations surfaced against lead actor Kevin Spacey. The allegations were published by BuzzFeed on Oct. 29, 2017 in an interview with actor Anthony Rapp, who accused Spacey of sexual harassment in an incident that occurred when Rapp was 14 and Spacey was 26. Elite Daily reached out to Spacey's representatives at the time of the report but did not hear back by the time of publication.
In response to Rapp's accusation, Spacey tweeted a statement on Oct. 30, 2017 saying that he had no memory of the incident. He then proceeded to come out as gay. From Spacey's statement at the time:
I honestly do not remember the encounter, it would have been over 30 years ago. But if I did behave then as he describes, I owe him the sincerest apology for what would have been deeply inappropriate drunken behavior, and I am sorry for the feelings he describes having carried with him all these years.
House of Cards went on an extended filming hiatus as Netflix figured out what to do. On Nov. 3, 2017, they put out a statement it would not continue to air the series if Spacey was involved:
Netflix will not be involved with any further production of House of Cards that includes Kevin Spacey. We will continue to work with [producers] MRC during this hiatus time to evaluate our path forward as it relates to the show.
The decision was then made to go forward without Spacey as the now former President Frank Underwood. (His character resigned at the end of Season 5.) Robin Wright, who has played Spacey's brutally ambitious first lady, Claire Underwood, for the last five seasons would be promoted to main lead, and her character will, fans assume, seize the presidency for the final chapter.
According to Deadline, Holland addressed the show's final season when asked about it.
We're really proud of the show, and it's a fitting end. We always planned for Season 6 to be the final season, and we are proud of the work Robin, the cast and crew have done... I can tell you that it was very emotional for a lot of us, me included, to be at the table read for the season. Ted (Sarandos), Peter Frielander and I went to Baltimore for the very last day of shooting which was also when they were filming the last scene of the last season, and Robin Wright was directing. It was really powerful and kind of beautiful to see because there is this family that has been build of the cast and crew in Baltimore over six years.
As for how Spacey's character would be handled, Holland merely said
You'll find out when you watch the show with respect to Frank.
House of Cards Season 6 is expected to arrive this fall on Netflix.