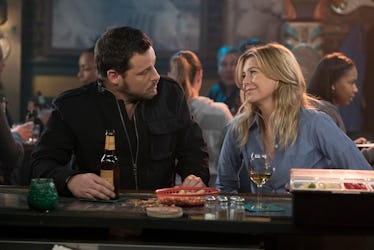 This Fan Theory About The 'Grey's Anatomy' Series Finale Is So Beautiful
ABC
The end of Grey's Anatomy is nowhere in sight, and creator Shonda Rhimes has been clear that as long as leading lady Ellen Pompeo is game, the series could essentially last forever. While I interpret that as every other character eventually leaving the hospital until Meredith Grey is literally the only doctor left, other fans have taken a particularly sentimental approach to predicting the series finale. We don't know when the doors to Grey Sloan Memorial will close for good, but how will Grey's Anatomy end?
Although the upcoming Season 15 will have a slight throwback to earlier days with the return of Kim Raver's Teddy, Grey's Anatomy has given off the impression that there's no looking back in the next season. Longtime cast members Sarah Drew and Jessica Capshaw left the show at the end of Season 14, and apart from Teddy, there's no sign of older, living characters popping up for a visit soon. But when it comes to series finales, including heartfelt nods to the past is a must, and Reddit user royalredhead is all about a finale that will tug at our heartstrings until the very end. While musing about possible series finale plotlines, royalredhead wrote:
Personally, I would love it to end with Meredith being older and diagnosed with Alzheimer's, Zola being a Neurosurgeon like Derek was, and finding the cure to the disease before her mom dies. I think that would be a happy ending. I just don't want Meredith to die the same way her mom did. She doesn't deserve that in my opinion.
The thought of this does actually make me a little weepy, and if the show wanted to embrace a cyclical nature and touch upon the first season's exploration of mother-daughter bonds, this direction would be the solution. Meredith and Ellis Grey had a complicated relationship, what with Ellis's medical career forcing Meredith into the shadows and often leading Ellis to neglect Meredith. Ellis developing early-onset Alzheimer's disease inspired a young Meredith to continue pursuing her own medical career, but she eventually died at the same time Meredith nearly drowned to death. Viewers also know that Meredith has always wished to find a cure to Alzheimer's, even though she can't save her mother from the disease anymore.
Meanwhile, with two generations of doctors before her, Zola seems destined to become a doctor, and she already mirrored Meredith's own childhood experience with Ellis when Meredith went into labor and Zola called 911. Grey's Anatomy could always pull a How I Met Your Mother and include a series of time jumps in its finale, showcasing Zola's decision to pursue neurosurgery over the years. Alzheimer's is also genetic, making Meredith's likelihood of having the disease greater. Are you taking notes for the future, Shonda?
While many other fan theories involved Alzheimer's, other viewers are using the summer hiatus to brainstorm slightly crazier endings. Reddit user teruravirino suggests that Meredith has dreamed everything that happened following Derek's death, while several others hope that a grown Zola takes over Meredith's narration or reads her mother's memories in a journal while Zola is a resident. We don't even know when this show will end, but I'm already getting emotional about these possibilities. Do I sense a Zola-helmed spinoff coming our way?
After the show has lasted this long, it's nice to know that fans are still invested enough to craft heartwarming guesses about how Grey's Anatomy may end. I have my fingers crossed for at least one sentimental nod to the Greys' backstory in this series finale. Season 15 of Grey's Anatomy premieres this fall on ABC.