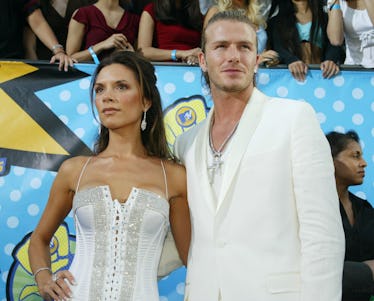 How Victoria Beckham Knew David Beckham Was The One Is So Pure & Beautiful, I Can't Even
Kevin Winter/Getty Images Entertainment/Getty Images
Concepts like "love at first sight" and "the one" seem so far-fetched to me sometimes. Like, how can two people fall in love that quickly? It took me a few months to finally admit to myself that I was in love, but some people know it immediately, like David and Victoria Beckham. They both admit to falling in love at first sight (even before the first physical sight, but more on that later). How both of them knew it was love at first sight is beyond precious, but how Victoria Beckham knew David Beckham was the one takes the cake.
In a letter Posh penned to her past self when she graced the October 2016 cover of British Vogue, she revealed that when she saw Beckham in the Manchester United players' lounge in 1997, she instantly fell in love with him.
"And yes, love at first sight does exist. It will happen to you in the Manchester United players' lounge — although you will get a little drunk, so exact details are hazy," she wrote. "While the other football players stand at the bar drinking with their mates, you will see David standing aside with his family. (He's not even in the first team at this stage — you are the famous one.) And he has such a cute smile. You, too, are close to your family, and you will think how similar he feels to you. He's going to ask for your number. (He still has the London-to-Manchester plane ticket on which you wrote it.)"
Her love for him wasn't about the fame that would eventually come from it, but rather, about her seeing right away that Becks was very family-oriented and a gentleman, she told W in 2007.
"I didn't really know who he was. I was never into football," she said. "He was always with his mom, dad, and sister while a lot of the footballers were at the bar getting drunk. I could sense right from the start that David was a gentleman, and very family-oriented, which is important because I'm the same."
When David spoke about how he knew Victoria was "the one," he revealed similar love at first sight feels.
In the same interview with W in 2007, David said he knew she was the one after seeing her in the Spice Girls' "Say You'll Be There" music video, before he even met her that day in the Manchester United players' lounge. "I turned around to Gary [Neville, his Manchester United teammate] and said, 'That one there, that's the girl I'm going to marry.'" And he was right.
The day he heard there were two Spice Girls in the stadium, he said he hoped it was Posh, and it was.
Two decades and four children later, David and Victoria Beckham have made it through cheating allegations, a life in the spotlight, and a whirlwind of other things celebrity couples have to face, but they've come out of it stronger.
While I may be slightly cynical and assume that there's no way someone can fall in love so quickly, Posh and Becks just proved me wrong, and I'm totally OK with that.
Check out the "Best of Elite Daily" stream in the Bustle App for more stories just like this!