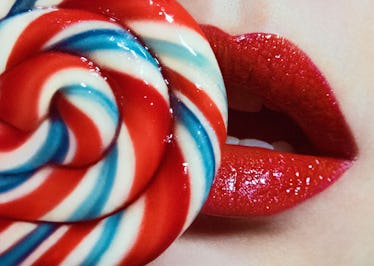 Here's How Venus In Scorpio Will Affect Your Sex Life, Based On Your Zodiac Sign
Gorgeous Venus, planet of love, relationships, and beauty, enters Scorpio on Sept. 9 at exactly 5:29 a.m. ET. It's SEXY time, stargazers, and in case you're wondering how Venus In Scorpio 2018 will affect your sex life, we've got you covered. In the meantime, let's invoke the goddess of love before her upcoming journey through the underworld, in erotic Scorpio. Venus is a cosmic beauty queen and zodiac darling. Everything this planet touches becomes utterly irresistible, and suddenly overflowing with abundance.
Scorpio on the other hand, isn't so adorable or quaint. On the contrary, this water sign is incredibly intense and smoldering, not to mention a walking sex machine. Scorpio is a bit of an extremist, as there is no meeting half way for this sign. In hypnotic Scorpio, Venus' charms can easily turn into poison. I know that sounds terrible, but to me, there's no other way of describing Venus in Scorpio's jealous wrath.
Imagine, Scorpio is this intimidating and vengeful AF water sign; meanwhile, Venus is vain and self absorbed. Can you imagine what happens when these two astrological energies intertwine? This Venus in Scorpio transit might feel a bit shady; however, one thing's for sure: our sexual desires will be all-consuming. Here's how Venus In Scorpio will affect your sex life, according to your zodiac sign:
Aries: A Secret Desire
With sensual Venus traveling through your secretive eighth house, you will begin feeling attracted to partners with intensity and mystery during this transit. You will suddenly get the urge to dig beneath the surface, and partake in all things taboo. Eye sex is inevitable during this time.
Taurus: A Highly Sexual Partner
You could suddenly meet a smoldering partner during this Venus in Scorpio transit. Warning: the sexual attraction will be through the roof. However, be careful with issues related to jealousy. You will be extremely magnetic during this time.
Gemini: A Sexual Routine
With erotic Venus traveling through your healthy sixth house of day-to-day routine, sex will suddenly become a part of your to-do list. Everything from watching your favorite porn, to having sex in the shower, or simply making it a point to masturbate at the same time everyday. Consistency is key.
Cancer: A Secret Love Affair
This Venus in Scorpio transit will touch your sexy fifth house of passion, so don't be surprised if you become totally and completely mesmerized by a new love interest. You will be attracted to secret affairs, sexual risks, and all things taboo during this time.
Leo: An Intense Desire For Intimacy
With Venus traveling through your fourth house of home and soul foundation, your sexual desires will as intense as ever. Sex will give you the comfort you seek, and your buried emotions could suddenly begin to resurface.
Virgo: A Sexy Mind Game
Venus in Scorpio will touch your mischievous third house of communication and thought process. This transit could spark more than one love interest, as this area of your chart belongs to Gemini. Sexting, intense flirting, and smoldering interactions are likely during this time.
Libra: A Sex Collection
With charming Venus traveling through your second house of money and possessions, chances are, you won't think twice about splurging on the perfect sex toys. Sex and passion will become part of your survival needs during this time.
Scorpio: A Sexual Presence
Bow chicka wow wow! With the goddess of love traveling through your sign, you will be oozing all things sex. Your gaze will be penetrating and unbreakable, as per usual, except with Venus here, it could also be incredibly persuasive and enticing.
Sagittarius: A Secret Sex Chamber
With erotic Venus traveling through your secretive twelfth house of dreams and subconscious realms, you could suddenly revisit a sexual connection from a previous lifetime. Your dreams will be seductive and vivid during this time. You should consider exploring tantric sex and sexual meditation practices, too.
Capricorn: A Sexual Right
A blind date with a friend's friend? Why not? You will be attracted to unconventional romance, secret societies, and all things related to your sexual right during this time. You may also feel attracted to people who are oversexed, too.
Aquarius: A Sexual Ambition
With sensual Venus traveling through your ambitious tenth house of career, authority, and reputation in the world, you may suddenly start an obsessive relationship with someone older than you. The world will find you incredibly sexy during this time.
Pisces: A Sexual Thrill Seeker
You're expanding your sexual horizons during this time. This Venus in Scorpio transit will touch your philosophical ninth house of travel, education, and the unknown. You might suddenly become sexually drawn to foreigners, and faraway lands during this time. Who knows, you might even join the mile-high club.