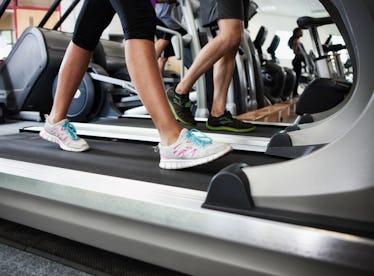 5 Tips For Working Out In A Crowded Gym, Because It's That Time Of Year Again
It is officially January, which means you can catch me avoiding the gym like the damn plague. With New Year's resolutions in full swing and motivation at an all-time high, you can expect to spend at least 15 minutes looking for parking at the gym, and your favorite cardio machine is probably unavailable until further notice. If you're going to brave the January workout crowds like a true warrior, and you're wondering how to work out in a crowded gym, there are definitely ways to continue getting your sweat on without completely losing your sh*t.
While New Year's resolutions are a great way to zone in on all of your goals and amp up your motivation, if you don't make fitness and movement a genuine part of your lifestyle, it'll be easy to fall of the wagon really quickly. Most people who make a fitness-related New Year's resolution throw in the towel by April (or even sooner). Until then, your beloved fitness center may look eerily similar to every Best Buy ever on Black Friday.
However, if you're not trying to wait until spring to return to the gym, it's really not that hard to squeeze in a quality sweat sesh in the midst of all the crowds. The next time your gym is packed AF, try using these five tips to help you navigate the sea of sweaty fitness fanatics.