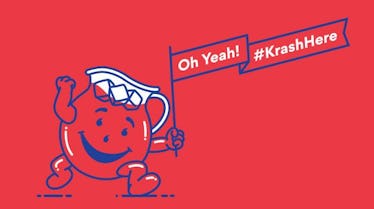 The Kool-Aid Man Can Crash Your Throwback Party, So It's Time To Relive Your Childhood
Kool-Aid
Ah, the good old days: sipping colorful, sweet Kool-Aid from a plastic bottle, and not caring about a thing in the world besides my impending sugar rush. Even though it has been a while since I've cracked open one of those iconic bottles, I know I still love Kool-Aid. Thankfully, the brand knows the value of that nostalgia, and their new national campaign, #KrashHere, capitalizes on it in the best way possible — with the Kool-Aid Man, of course. Interested? Here's how to win the #KrashHere contest and potentially have the Kool-Aid man crash your throwback party.
Like us, the Kool-Aid man has aged since the '90s. He's nearly 40 years old —yes, really — and he's cooler than ever in his new party-crashing role. If you're interested in having the celebrity smiling pitcher of punch stop by your get together, you have until Saturday, Nov. 11 to enter for a chance to win that coveted visit IRL.
Here's how to enter.
According to an email sent to Elite Daily, submitting your entry is as easy as hitting "Tweet" on Twitter. A Kool-Aid spokesperson tells us that fans simply need to tweet @koolaid with why they think they deserve to win, along with the hashtags #KrashHere and #contest. Once you hit send on your tweet to @koolaid, you can sit back, relax, and wait until the contest is over. The last day to enter is Saturday, Nov. 11.
According to the Kool-Aid spokesperson, one winner — who has to be over 18 years old and live in the U.S. — will be chosen the following Monday, Nov. 13, and notified via Twitter Direct Message. The lucky duck will have three dates to choose from, but the "krash" is only redeemable through Jan. 30. (Definitely keep that in mind if you're crossing your fingers and toes, hoping to win such a juicy prize.)
In a press release announcing the exciting sweepstakes, Melanie Huet, vice president of Kool-Aid at The Kraft Heinz Company, explained the brand's goal. She said in a statement,
It isn't every day that people receive such an up-close and personal visit from an icon like Kool-Aid Man. We love dreaming up ways we can really excite our moms, dads and kids, and the #KrashHere sweepstakes is the perfect way to make a party or event special for one lucky fan, keeping all walls intact in the process.
No matter what event you have in mind for the Kool-Aid Man to "krash," it's guaranteed to be extra memorable with him involved.
On Oct. 18, 2017, the brand uploaded the above YouTube video starring the Kool-Aid Man himself, ultimately showing fans all the fun possibilities. Throughout the minute-long clip, the giant pitcher of Kool-Aid surprises party-goers at various locations from news stations to bridges and even hotel lobbies. Those hilarious moments are perfect segues to the heart of the beverage brand's #KrashHere campaign.
Bascially, the Kool-Aid Man isn't "just krashing walls anymore."
We at Elite Daily were lucky enough to get a special visit from the Man himself. After stocking our office fridge with all the Kool-Aid, he was kind enough to walk around our HQ and snap photos with everyone. Oh and just in case you're wondering whether your party guests would even care if the Kool-Aid man were to show up, let me tell you that they WILL. I mean, how can one's eyes not light up at the sight of such a historic figure? I will say though, something about him will make you... thirsty. LOL.
Good luck to all who decide to enter! Don't forget to hashtag #KrashHere and #contest.