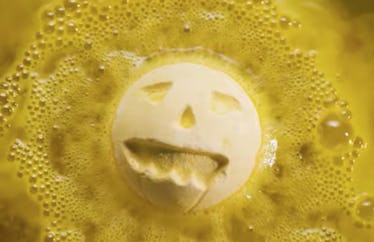 You Can Win Halloween Lush Products On Snapchat This Month, But There's A Spooky Catch
LUSH
Now that you are firmly living your best fall life in October, it's time to start thinking about all things Halloween. Of course, there's the pumpkin carving and the cider drinking, but don't forget about self-care during this spooky time. One company is doing their best to make it easy for you to remember. Keep reading to find out how to win Halloween Lush Products on Snapchat throughout the month of October.
According to Hello Giggles, the "Fresh Made Cosmetics" company is taking to Snapchat every Wednesday night in October to offer a chance to win one their themed bath products. Believe me, Lush knows what they're doing when it comes to whipping up Halloween Bath Bombs and other seasonally appropriate goodies. The best part is that with a little night-owl action on Snapchat, you could win one of them for free.
The contest isn't too tricky — no double, double, toil, and trouble-ing over a cauldron here. According to Refinery 29, all you have to do is make sure you're following @lushfreshsnaps on Snapchat, get on the app at 12 a.m. EST every Wednesday (so, right when it's about to be Thursday) in October, and make sure that you're armed with your spookiest Halloween tales.
When the clock strikes midnight, it's your chance to turn your nonexistent horse-and-carriage into a Sparkly Pumpkin Bubble Bomb — no glass slippers necessary. The Lush Snapchat account will pose a series of questions, and then, you will have to respond with your most bone-chilling, Blair Witch-esque story to score the most festive Lush loot you could ever want. The creepiest tale will win.
If you've been on the fence about whether or not you're going to hit up the haunted house or creepy nighttime corn maze with your pals, maybe you should take them up on the offer. It could turn into you winning a Monster's Ball bath bomb. You know that decorating for Halloween can really take it out of you, what with the stretching of the fake cobwebs and agonizing over the perfect plastic spider placement. What better way to refresh than a spooky soak with your brand-new Lord of Misrule Bath Bomb?
OK, you're probably getting ready to start marking your calendar and setting your 12 a.m. EST alarms for every Wednesday this month. Let me help you out. Sadly, the first contest has passed, but there are still three more opportunities to score scary suds this month: Oct. 11, Oct. 18, and Oct. 25. Make sure that you are up at the time of the contest, because the questions will disappear come morning.
Hey, if you happen to win, you can also mark "figure out Halloween costume" off of your to-do list. I mean, you'll obviously go as the "Lush Snapchat contest winner who is also the most relaxed person at the Halloween party, because free bath bombs." You can shorten the name if you'd like, but it will be true nonetheless.
Hopefully, those nights spent around the campfire perfecting your story-telling by scaring the living daylights out of your Girl Scout troop will finally pay off by gifting you with all the Pumpkin Bath Bombs. If they don't, you can always get your Halloween on by visiting Lush store or the online shop. You can check out the other Halloween products like their Black Rose Lip Tint. Before you swipe, you can also prep for your goth-inspired pucker with their Black Rose Naked Lip Scrub — scary never smelled so good.
So, if you're looking for a way to treat yo self this season that doesn't include the Halloween candy bowl, hit up Lush's Snapchat for a chance to upgrade your bath game this October.