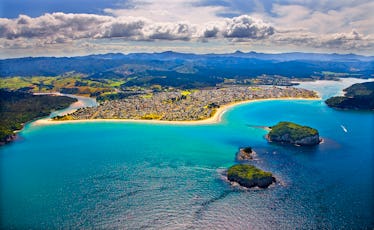 You Can Win A Free Trip To "Donut Island" In Honor Of National Doughnut Day
The Coromandel
OK, I probably don't know you personally. In fact, I'm pretty positive I don't know you at all. But I do know for a fact that you've daydreamed about your own made-up island at one point or another. My dream island, for example, is filled with endless amounts of puppies, spicy guacamole, tequila, and, of course, Friends reruns. However, if fried desserts are more up your alley, you might be wondering how to win a trip to "Donut Island" through Papa John's latest contest. It's a free trip to New Zealand, and in all honesty, it sounds straight-up incredible. Get on that.
You may have heard about Papa John's latest and greatest addition to its dessert menu: Papa John's Donut Holes (oooh, ahhh). Well, to celebrate the addition of the newest menu item, the pizza delivery joint will be hosting its first official Dreaming of Donuts Island Getaway Sweepstakes. According to a press release, one lucky winner will receive an all-expenses-paid trip for two to the beautiful Coromandel region of New Zealand for eight days and seven nights. Honestly, if this doesn't sound like the ideal grand prize to you, then you definitely won't be invited as my plus-one.
Putting yourself in the running to win this dream vacation is actually so simple. According to a press release, all you have to do is order Papa John's Donut Holes online or through the restaurant's app anytime between Saturday, June 2, and Saturday, June 30. Then, voila! You can opt into the sweepstakes and become eligible to win. For additional information, customers will be able to check out the company's sweepstakes website when it officially goes live on June 1. So, um, yeah... count me in. These are the easiest (and most delicious) sweepstakes rules ever.
In case you didn't know, Whenuakura (Donut) Island is in the Coromandel region of New Zealand. It lies just off the country's gorgeous coast, so get ready for the scenic trip of a lifetime. According to a press release, the island is called Donut Island because, surprise: it's doughnut-shaped. Apparently, the protected island is one of New Zealand's most beautiful attractions. Once you get there, you'll be able to explore stunning emerald lagoons, ogle at stunning rock formations, and admire red-flowered pohutukawa trees. It almost sounds like a fairytale, y'all. I mean, look at it — it's breath-taking. This island is pretty much real-life Neverland.
Anyway, Papa John's Donut Holes will only be available for a limited time, so make sure to get as many as possible (in addition to the ones you ordered while entering the contest, of course). They're bite-sized, cinnamon sugar-coated, and filled with caramel crème. It honestly sounds like the best $4.99 order for 10 Donut Holes, and you better believe I'll be taking advantage of this.
Oh, and that isn't even the best part. According to the press release, fans will be able to try these babies for free before their official launch. On June 1, aka National Doughnut Day, customers who order a Papa John's pizza online will receive a free order of Donut Holes. Yes, you heard that correctly, you'll just have to order a pizza. So if you were thinking about ordering a Papa John's pie anytime soon, the first of the month is definitely the time to do it.
If you love doughnuts, do yourself a favor and order Papa John's Donut Holes throughout the month of June. On the first order, you'll get them free, and for the rest of the month, you can opt into the sweetest sweepstakes I've (literally) yet to see. Doughnuts are love, doughuts are life, guys, and a free trip to Donut Island sounds like the vacay of my dreams.