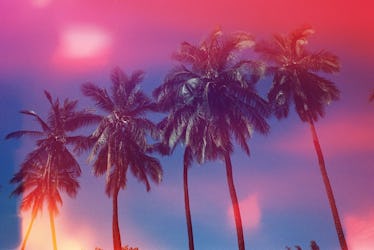 You Can Win A Free Trip To Hawaii By Entering Dunkin' Donuts' New Contest
Dunkin' Donuts is always there for us, especially in times of need. They cater to our unshakable sugar cravings, as well as all of our nagging caffeine urges. And now, during the coldest and (seemingly) longest months of the year, they're even helping us soothe our travel bugs. So if you're a hardcore Dunkin' lover and you're just trying to GTFO, here's how to win a free trip to Hawaii through Dunkin' Donuts' #DDLoveContest.
From pumpkin-flavored everything to Christmas-themed donuts, it's pretty clear that Dunkin' goes all out for every single holiday... and that doesn't seem to stop at the biggest Hallmark holiday of the year. According to a press release, DD is launching a giant Instagram contest starting on Feb. 6, lasting through Feb. 15. The grand prize winner will receive a free trip for two to any city in the U.S. that has a Dunkin' Donuts. And, FYI, this includes Hawaii... so it seems to us like there's absolutely no reason not to enter.
Unlike most Valentine's Day activities, this contest actually doesn't exclude #thesingleladies. You might be in a fully committed relationship, or you may just have a super awesome best friend — but either way, you can totally still enter. Fans will simply be required to share over IG how their friendship or relationship "runs on Dunkin'," using the hashtag #DDLoveContest. Maybe you and your work bestie totally rely on those DD hash browns to get you through your morning meeting, or you and your boo always make sure to stop for hot chocolate on every car trip. Either way, the #DDLoveContest is open to any and all fans and relationships.
The lucky AF winners will be officially selected on Feb. 16... and honestly, I'm already planning my vacation of tanning, swimming, and playing outside. Because, I repeat: this includes Hawaii. So be prepared to sip Coolattas on the beach under the palm trees. The contest doesn't involve purchasing anything, selling any limbs, or telling anyone your deepest, darkest secrets. You literally just have to post an Insta, and be 18 years old. Additional details are on their website, but it's actually that easy.
Aside from Insta, DD is literally taking over all of our social media apps, and we're kinda loving it. They're actually partnering with Tinder to introduce some special V-Day polls, messages, and even GIFs on the Tinder messenger keyboard. Through Snapchat, Dunkin' will be introducing a special love-themed geofilter on Feb. 13, and even a Snapchat-based game called "Donut Pop," which is set to run throughout the entire month of February. Through their own Dunkin' app, they'll be introducing holiday-themed emojis via the Dunkin' Donut Emoji keyboard. Dunkin' is ruling our social apps, and we're seriously not mad about it... because honestly, there's nothing better than donuts, and of course, spreading the love.
In terms of the good stuff, Dunkin' Donuts is going to have a hearty (haha, get it?) selection of new and old seasonal Donuts, that we all know and love... and all of them are obvi gonna be heart-shaped. The Vanilla Truffle Donut will be filled with vanilla-flavored buttercream, and topped with vanilla icing and dark chocolate curls. The Brownie Batter Crumble Donut will be filled with brownie batter, topped with chocolate icing and crumbled brownies. And finally, the Cupid's Choice Donut will be filled with Bavarian Crème, and topped with strawberry-flavored icing, as well as a medley of pink and white sprinkles. So there's really no going wrong with any of the heart-shaped donuts that'll be available for the next month. Even if you don't end up winning the free trip, your tummie will totally be in love.
Check out the entire Gen Why series and other videos on Facebook and the Bustle app across Apple TV, Roku, and Amazon Fire TV.