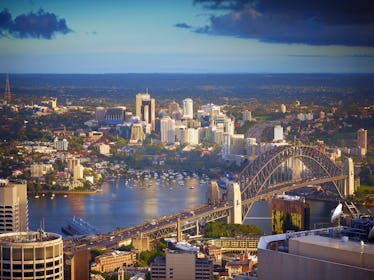 How You Can Win A Dream Vacation To Australia If Your Name Is Sydney
Handout/Getty Images News/Getty Images
Start scrounging up your birth certificate if your name is Sydney, because it could be your golden ticket for a once-in-a-lifetime trip to Australia. United Airlines recently announced that they are adding nonstop service from Houston, Texas to Sydney, Australia, and they're giving away a killer grand prize to celebrate. Keep reading to find out how to win a free trip to Australia, because if your name is Sydney, you could start the new year down under.
United Airlines will have their first flight with nonstop service from Houston to Sydney take off on Jan. 18, 2018, according to Cosmopolitan. To kick it off, United wants all people named Sydney (first or last name) to enter the airline's sweepstakes for a chance to win roundtrip tickets to their namesake Australian city. Five "Sydneys" and their guests (hope for non-Sydneys!) will be chosen to fly on the inaugural flight on Jan. 18, 2018.
So, if your legal name is Sydney — or one of the other 19 accepted spellings of the name — you can enter the contest by filling out the entry form on the United Airlines website. Seriously, pretty much all you have to do is fill out the form and be named Sydney. The other musts are that you're a legal U.S. resident and are at least 18 years old.
If you fit all the contest parameters, remember that the entry period runs from Dec. 13, 2017 to Dec. 27, 2017 (so enter ASAP). The winners will be chosen on Dec. 28, 2017.
What exactly will you win if you're one of the five lucky Sydneys? First, you'll get two free economy-class roundtrip tickets that will take you to Sydney from Jan. 18 until Jan. 25, 2018. While you're in Australia, you'll spend your five nights at the Westin Sydney, explore the beautiful sights aboard a Sydney Harbor Sightseeing Cruise, check out the iconic Sydney Opera House, and discover Australia's natural beauty during a day tour in the Blue Mountains. Plus, you'll receive a $500 gift card to help you live your best Sydney life.
With a prize package that loaded, United must really be excited about their new nonstop flights from Houston to Sydney. Even though the trip is free if you win, you might be paying for it with your time. The nonstop flight to Sydney from Houston is a whopping 17 hours and 35 minutes long, but the return fight cuts it down a bit lasting just 15 hours and 45 minutes. I get it, that is a long time to be up in the air — but hey, it'll be a great time to get a jump on all that reading that you resolved to do in 2018. Or, you can prep for your Australian adventure by re-watching the Mary-Kate and Ashely Olsen classic, Our Lips Our Sealed (feel free to enjoy it totally un-ironically). Either way, you're on a free trip to Sydney, so really it's all good.
Before you hop on that free flight, you can take some steps to ensure that you're not waiting around all day at the airport. Instead of arriving at the airport at the crack of dawn to make sure you don't get stuck in a long security line, you can check security line wait times on the TSA website beforehand. You can also sign up for TSA Precheck to cut down wait times to a mere five minutes. Given that your flight will be quite the haul, cutting down wait times is a definite must.
If you're name is Sydney, make sure you remember to enter the contest before Dec. 27. For all of us poor non-Sydneys, all that's left to do now is buddy up with your closest pal named Sydney and hope their name gets drawn on Dec. 28. Good luck!
Check out the entire Gen Why series and other videos on Facebook and the Bustle app across Apple TV, Roku, and Amazon Fire TV.