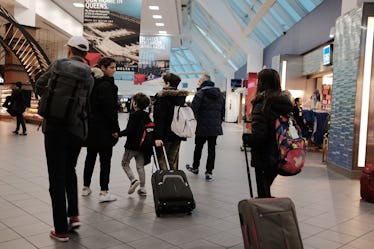 Here's How To Check Long Security Lines Before You Get To The Airport, Because Waiting Sucks
Spencer Platt/Getty Images News/Getty Images
Flying always feels fun to me. Even if I'm traveling somewhere close, air travel just feels a little bit like an adventure — most of the time, anyway. That is, until you get to the airport and see the security line snaking around multiple times. Then it can feel like a nightmare. But thankfully, there are ways that you can check for long security lines before you arrive at the airport, so you don't have to wait.
Because the holidays are coming up, chances are you're going to want to give yourself some extra time at the airport, anyway. However, even the most seasoned airport vets (we're looking at you, dads) can fall victim to an unexpected hiccup, such as traffic or weather delays. While some of these are unavoidable, you can actually prepare for things like long security lines with the help of the TSA website.
It's super easy. Before logging on, make sure you have your flight information ready. Once you have your information, head to apps.tsa.dhs.gov/mytsa. You'll be presented with a search engine, which gives you the option to enter your city, state, airline, airport name, or airport code. All of this should be available in your flight confirmation and/or boarding pass.
I typed in the code for my nearest airport, which is JFK in New York. When you've got yours, click 'Search.'
The search engine will ask you to confirm your airport, which is convenient if you're like me and traveling stresses you out, making you prone to typos. If you see the airport you're looking for, go ahead and click on the bubble next to it and then click "Choose This Airport." If you typed in the wrong thing, click "Search Again." No biggie.
Finally, you'll be taken to a page with wait times updated by TSA. As you can see in my screenshot, the wait times are not fully up to date. Hopefully, with the holidays coming up, these numbers will be updated more frequently to ensure maximum travel efficiency.
If your airport information has not been updated on the site, there are other options for avoiding a ridiculous security line. The KAYAK app, available on iOS and Android, also allows you to check security wait times. The app uses data from both the TSA website and real-time user feedback, so even if TSA is falling a bit behind, chances are you'll still be able to see accurate wait times, as recorded by fellow travelers.
There's also WhatsBusy, a site aimed at helping people spend less time waiting. Visit whatsbusy.com/airport and select your airport, the date of your trip, and the time you plan to arrive at the airport. From there, the app uses TSA data as well as data from different airlines to help you determine what security lines will look like when you're traveling. Remember that even with these helpful tools, you should always try to arrive at least two hours before your domestic flight, and three hours if you're flying internationally.
If you want to really get strategic, try to pick travel days that are not notoriously hairy when you're booking your flights. Unfortunately, with both Christmas and New Years falling on Mondays this year, there are few "ideal" travel days during the 2017 holiday season. USA Today recommends steering clear of the airport on Dec. 22, 23, 24, 29, and Jan. 2 (if you can help it). We're already a week into December, though, so if you want to avoid those travel dates, book your flights fast!
Once you're in the line, there's not much else you can do but wait. When you get to the front, you can speed things up by being prepared. Follow the 3-1-1 rule: no more than 3.4 ounces of liquid stored in a 1-quart bag, and try to have only one bag per person. Make sure you're wearing shoes that you can easily slip into and out of, and double check that you don't have any prohibited items with you. Sometimes, an extra bag search can be the difference between making and missing your flight.
Travel can be stressful, especially during this time of year. But as long as you are prepared, it doesn't have to dampen your holiday spirit.
Check out the entire Gen Why series and other videos on Facebook and the Bustle app across Apple TV, Roku, and Amazon Fire TV.