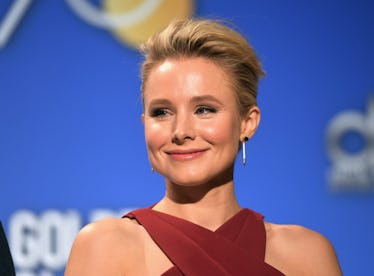 How To Watch The 2018 SAG Awards So You Can See Every Glorious Acceptance Speech
Matt Winkelmeyer/Getty Images Entertainment/Getty Images
We just celebrated the official kickoff of awards season with the celebration of the 75th Golden Globes, and there's still a long road ahead before we reach the grand finale of the Academy Awards. Next up is the SAG Awards on Sunday, Jan. 21, which recognize TV and film actors and ensemble casts who have been nominated by members of the Screen Actors Guild. Yup, this one is basically actors congratulating themselves for good work. If you're asking how to watch the 2018 SAG Awards, don't feel bad — this ceremony doesn't air on a main network, so it can be tricky to find.
Firstly, this year is a perfect time to tune into the SAG Awards if you haven't before. Kristen Bell will serve as the ceremony's first ever host, continuing the season's trend of female empowerment, and all of the presenters will be women. There's been no official mention of attire, but perhaps attendees will even continue the Globes' all-black dress code in protest of sexual harassment. Either way, Bell is sure to deliver some much-needed realness about women's experiences in Hollywood, and I'm so ready for it.
It's no coincidence that the SAG Awards will include a host for this particular year. A statement released by executive producer Kathy Connell and the SAG Awards Committee read:
This has been a year in which assumptions have been challenged, stereotypes have been shattered, and precedents have been broken. We decided to capture the cultural mood by casting aside one of our own traditions, and we're thrilled to have such a talented performer like Bell help us do so.
Based on the ad announcing Bell's hosting gig, I'm already hoping that this paves the way for even more female award show hosts (Tina Fey and Amy Poehler for Oscars 2019, just saying).
This is wishful thinking, but Bell at the helm of the SAG Awards could've inspired the hosting choice for the 2018 BAFTAs, aka the British Oscars. When its nominations were announced on Tuesday, the organization also revealed that actress Joanna Lumley will host the ceremony, marking the first time a female has been in charge since Mariella Frostrup co-hosted with BAFTA fixture Stephen Fry in 2001.
The SAG Awards will air both on TNT and TBS at 8 p.m. ET / 5 p.m. PT on Jan. 21. Yes, once a year, TBS stops its constant reruns of Friends and Family Guy to host an awards show. TBS and TNT subscribers will be able to watch the awards live online or on the channels' mobile apps. In case you'll be out during the ceremony, you can catch a repeat of the show at 11 p.m. ET on TNT.
Of course, no award show is complete without the red carpet coverage beforehand. While E! has yet to release its official broadcast information, we can assume that it will start streaming red carpet arrivals two hours before the show starts, as usual. The network has its own livestream on its website.
While the Golden Globes have the reputation of being Hollywood's biggest, booziest party, the SAG Awards are essentially the Oscars' dress rehearsal. While the Globes sometimes include bizarre, out-of-the-blue nominations, the SAG Awards often pick a crop of performances that Oscar voters will also agree upon. The Hollywood Foreign Press Association selects Globe winners, while SAG and Oscar voters comprise of actors, directors, and other industry reps who have more direct ties to the acclaimed films. You can rely on the results of the SAG Awards for a fairly accurate roadmap of how Oscar night will play out.
Speaking of the Oscars, the Academy Award nominations will be announced live on Tuesday, Jan. 23. The greatest time of the year (yes, better than Christmas) will end once the Oscars finally air on March 4. That means we have nearly two months of awards season to look forward to!