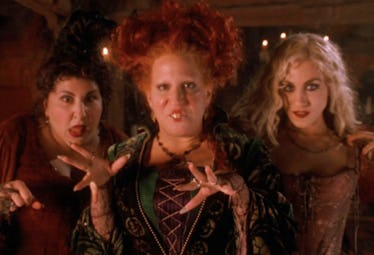 Here's Where To Watch 'Hocus Pocus' To Start Your Halloween Off Right
Disney
SISTAAASSSSS! The time has come. The Black Flame Candle has been lit by a virgin, and the Sanderson sisters are back in our lives once more. Yes, we're finally only 10 days away from Halloween, so that means it's time to grab your spell book and start running amok (amok, amok, amok!) around the whole damn place cause IT'S TIME TO WATCH HOCUS POCUS, BABY. But how can you watch the greatest Halloween movie of all time (@ me, do it) if you don't own the movie? Fear not, witches. We're here to tell you how to watch Hocus Pocus so you can truly get into the spooky spirit.
Let's not talk about that Hocus Pocus remake just yet. The fact that it apparently won't be bringing back the original Sanderson sisters is a bunch of malarkey, and I have never used the word "malarkey" seriously in a sentence before. That's how strongly I feel about this blasphemy. So for now, I shall reject that narrative (but we'll come back to it later). Let's focus on what really matters: Winifred, Mary, and Sarah Sanderson, and our yearly tribute to Bette Midler, Sarah Jessica Parker, and Kathy Najimy's most iconic work. I don't care about Sex And The City. I don't care about Hello, Dolly! All I care about when it comes to these women is Hocus Pocus. (OK, I'm totally lying about Hello, Dolly! It is a masterpiece. Please forgive me, Bette.)
OK, back to how you can watch Hocus Pocus:
1. Watch it on Freeform.
Freeform will be playing Hocus Pocus just about every day from now until Halloween as part of its annual 13 Nights of Halloween schedule. On Halloween itself, starting at noon, there will be a Hocus Pocus marathon, meaning it'll be playing on repeat until Halloween is over. God bless Freeform.
2. Watch it on YouTube (legally).
Very unpopular take: It's not cool to illegally stream movies. *Internet gasps, clicks out of article, unfollows me on Twitter, swears me off forever*. I'm just sayin', guys, why risk getting a virus on your computer when you can literally just watch Hocus Pocus for $2.99 on YouTube? It literally costs less than a Chipotle burrito to watch it.
3. Watch it on Amazon.
Whether you have Amazon Prime or a regular Amazon account, you can rent Hocus Pocus for $3.99 on Amazon. You can also buy it for $8.99 so you can watch it whenever you want and never have to google "how to watch Hocus Pocus" again!
4. Download it on iTunes.
If you don't like Amazon and are all about Apple, you can buy Hocus Pocus for $8.99 on iTunes as long as you have enough storage on your device to download the whole movie. There's no option to rent it on iTunes, however, so if you don't want to commit to having the movie forever on your phone or computer, then I'd go to either Amazon or YouTube to rent it.
5. Order it online.
If you want to go a little old school and buy an actual hard copy of the movie, you can order Hocus Pocus on Amazon for $4.99 if you get it on DVD and $9.99 if you get it on Blu Ray. Obviously, if you have Amazon prime, it will arrive in two days and you can watch right away. If you don't have Amazon Prime, it will take a little longer to arrive at your door.
OK, now back to Hocus Pocus 2.0. Disney confirmed to Deadline on Sept. 28 that a Hocus Pocus remake is in the works, set to be aired on Disney Channel. As excited as fans were to learn this, their souls (like mine) were quite literally crushed to learn that the new movie will not star the original Sanderson sisters, so no Bette, Sarah, or Kathy. The movie also won't feature the original characters Max, Dani, Allison, Thackery Binx, and Billy. Like I said, this is blasphemy. Hocus Pocus director Kenny Ortega reportedly will not be returning to direct the remake. If you don't know who Kenny Ortega is, well, he directed Hocus Pocus for starters, and he also directed the entire High School Musical franchise as well as Descendants, Disney Channel's new most popular original movies. So you've definitely seen his work even if you don't know his name.
In 2015, Bette Midler said in a Facebook Live that she wasn't involved in any kind of sequel/remake and that there weren't any in the works. She said,
After all these years and all the fan demand, I do believe I can stand and firmly say an unequivocal 'no.'
And now Disney has confirmed Midler and the rest of the original cast won't be returning. FORGIVE ME IF I STAY THE F AWAY FROM THIS REMAKE.
Happy Halloween, witches.