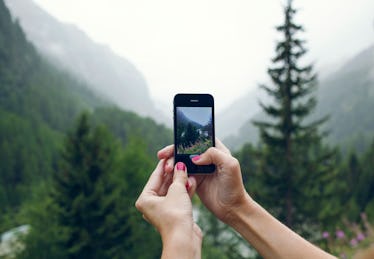 Learning To Use Lightroom 2018 Has Totally Upped My Instagram Game
When Kendrick Lamar says that he's "so sick and tired of the Photoshop," I like to think he's not calling me out intentionally. I hate to admit it, but I honestly love editing my pictures. Whether I'm manipulating the color scheme, setting a mood with a unique filter, or messing around with the lighting, it's always fun to play around with different tools and apps to perfectly customize your photo. So if you, too, are all about editing your photos for Instagram, here's how to use Lightroom 2018. You'll definitely thank me later.
If you've ever used Adobe Lightroom on your computer, it can get pretty complicated. There are a ton of features, and it's easy to mess up if the file is too large. However, using Adobe's version for your phone is incredibly quick, easy, and allows you to edit your photos in a super professional-looking manner in a matter of minutes. Although you have the option to pay for additional features and filters, it's entirely free to download and use in the most basic way possible. Learning how to use the app is super fun and easy, so why not take a second and learn the basics? Seriously, your feed will look so, so amazing.
Here's how to do it: