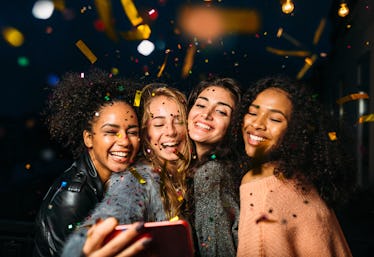 9 Glitter IG Story Filters That'll Really Make Your Selfies Stand Out
Shutterstock
A fun way to up your content game is by using filters when you're posting on your IG Story. If you really want to make your stories shine, glittery ones might be the way to go. But, it's more than simply adding a filter and you're done. You need to know how to use Instagram glitter filters properly to make the most of your selfies, candids, and Boomerangs.
You want to make sure your snap is still the center of attention, and your glittery additions help make it pop (and not take away from it). It'll also come in handy knowing which filter to use for which kind of pic you're taking. For a foodie pic, you might want to use a subtle glitter filter that adds a little touch of sparkle to your already aesthetically-pleasing dish. If you're snapping a selfie with the sun glowing on your cheek, use a filter that adds glittery makeup to your lewk. You can even use a glittery border to surround your adorable pup who's taking a snooze.
It's easy to achieve the right amount of shine if you use any of the glittery filters on this list. Just remember to save these effects to your account, so they're easy to pull up when the time is right. That way, you'll never miss a chance to shine.