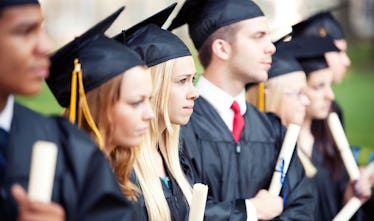 Here's Why Graduation Is The Perfect Time To Cut Toxic People Out Of Your Life
Graduating from college is one of the most bittersweet things that can happen to someone in their twenties. After four (or more) years of discovering who you are, exploring career paths, and fostering some pretty great friendships, it's easy to see why taking a step into the real world can be equal parts exhilarating and terrifying. But closing this chapter of your life is also a great time to take a closer look at your relationships. Cutting the toxic people out of your life might not be something that you make a conscious decision to do as college comes to an end, but graduating definitely presents the perfect opportunity.
College is a time when most people are figuring out what they want out of life and who they want to surround themselves with in the long run. Sometimes, this process can definitely take a little bit of trial and error. The friend you made during Welcome Week who you continued to party with but who also ended up backstabbing you might not be someone who you want to continue seeing after graduation. The same goes for the hookup buddy who you've always wanted something real with but who made it clear they just wanted something casual. That doesn't mean that these are "bad" people, but graduation is a good time to get closer to your ride-or-dies, and let go of the relationships that have reached their expiration.