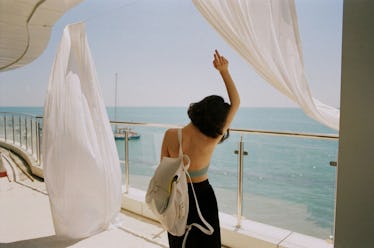 Ditch Your Cubicle & Make The World Your Office In These 3 Easy Steps
You've likely dreamed more than once of dropping your busy schedule and traveling the world. It would be a dreamy once-in-a-lifetime experience, but money and time usually held you back. It would seem like you'd need a large reserve of money and time to travel endlessly, but this couldn't be further from the truth. Now more than ever, people have the ability to see the world while earning money at the same time. As long as you have a phone or a laptop, you're set. So, if you have the desire to work from a tropical oasis or desert paradise, I'm here to tell you how to travel while earning money online, because I've been there, done that.
I can totally understand the desire to travel more. You have the opportunity to make new friends from all around the world, try foods you've never heard of, and visit places you've been dying to see. It's difficult to make time for travel when you're working with only two weeks of vacation per year. Fortunately, there are so many options available for those who want travel to become a major part of their lifestyle. You no longer have to quit your job to see the world. Instead, you can continue to work on your goals as you cross destinations off your bucket list.