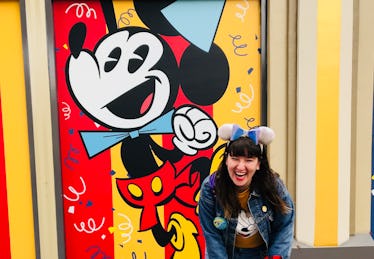 How To Throw An Adult Mickey & Minnie-Themed Birthday That's Utterly Cool
Birthday party planning is a whole lot easier the minute you choose your theme. That's when all the ideas start flowing through your head. As a major Disney lover, it makes perfect sense to drift towards something that revolves around the two most iconic Disney characters: Mickey and Minnie Mouse. However, you might be wondering how to throw a Mickey and Minnie-themed birthday party as an adult that's anything but corny.
Of course, you know Disney has no age limit, but you also know a Mickey and Minnie-themed birthday party is totally different in your 20s than the one you enjoyed when you were five years old. While the ice cream cake and mouse ears are still totally invited to the fun, you may want to work any (or all) of these eight activities into your game plan as well. These things fit into the Disney theme, but your friends can enjoy them now.
It's essentially the perfect combination between sophisticated fun and that childhood nostalgia you can only expect when it comes to Disney. So break out your cutest pair of Mickey ears and rock some Minnie-inspired polka dots into your outfit, because it's time to ring in your special day.