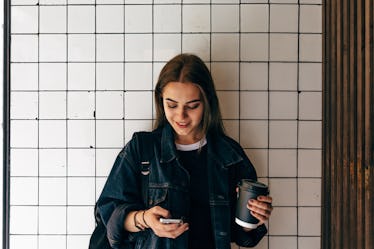 Here's How You Can Text Your Parents When You Don't Want To Call
Let's be honest: Most of us don't mind talking on the phone with our parents, but sometimes, they can be pretty chatty. When you don't live with your parents anymore, you don't always have time to fill them in on everything. Of course, some things are worth sharing, like if you're desperate for roommate advice or have a question about your taxes. When you get good news, you might contemplate calling home, but then you remember it could turn into hours of conversation — and you have to go grocery shopping! Needless to say, knowing how to text your parents when you don't want to call them is key.
Truth is, you can't expect your family to quit calling you cold turkey-style. (Unless, of course, that's something you want.) More often than not, your parents and/or siblings are really just reaching out because they care about you a whole lot. Instead of trying to craft a text that won't leave your parents really moody after you ignored their 10th call, knowing how to balance the communication is crucial to making everyone happy and keeping the peace. Dr. Gary Brown, a prominent relationship expert in Los Angeles, explains just how to do just that.