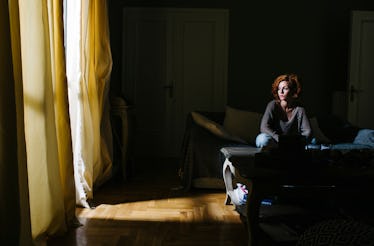 These Subtle Red Flags Could Mean You're About To Get Sick, So Here's What To Do
When you're constantly on the move, it can be easy to miss the signals your body is trying to send to you about how you're really feeling. Knowing how to tell you're getting sick isn't necessarily a complicated process. It's more about taking the time to pay attention to your body, rather than rushing through your symptoms because you've got sh*t to do.
If you ignore the early symptoms of a cold or the flu, then you're not doing yourself any favors. Instead, you'll continue to put off treatment and rest, so that your body will eventually start to scream at you with a high-grade fever and a blasting headache, until you finally pay attention.
During a time when one of the deadliest flu epidemics on record is sweeping the nation, it's never been more important to pay attention to your body, especially in the moments when you're not feeling so hot. A common cold or flu can present itself through a variety of symptoms, almost all of which are totally detectable, if you're willing to actually acknowledge them. Let's be honest: It won't be the end of the world if you stay home from work or school for a day or two to recover.
Here are five ways your body will tell you that you may be getting sick.