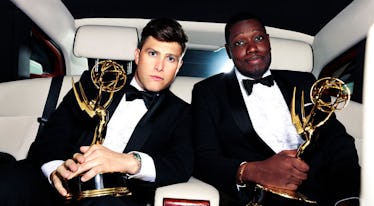 How To Stream The 2018 Emmy Awards So You Don't Miss A Single Moment
NBC
Yes, it is still possible to be part of television's biggest night even without a television. The Emmy Awards are coming up, and if you are unable to tune in on a television, then look no further than a laptop or smartphone to catch every single moment of the big event. Here's how to stream the 2018 Emmy Awards, along with everything else you should know about this year's ceremony before you sit down to watch it.
When is it?
First things first: the 70th Annual Emmy Awards will air live on NBC on Monday, Sept. 17 at 8 p.m. EST. If you cannot tune in on a television, you can still live-stream the ceremony online. Head over to NBC.com to access a live-stream of the 2018 Emmys or you can download the free NBC app to stream the whole ceremony there.
Who is hosting this year?
Keeping the tradition alive of dudes from late-night comedy programs hosting the Emmys, this year's ceremony will be hosted by Colin Jost and Michael Che, who you probably recognize from Saturday Night Live's Weekend Update segment. The two comedians are also the co-head writers for the late-night sketch show.
Normally, viewers expect awards show hosts to hit on what is happening in the current culture with their monologues, but Colin Jost teased to Vanity Fair that his and Michael Che's Emmys hosting stint would be apolitical:
It is kind of fun for us to do something that is not political. The exciting part is to do things about television and that particular awards ceremony and make it, in general, less political than normal. There's a lot to celebrate in television right now. It's a very strong time.
This will be a shift from their primary jobs on Saturday Night Live, which is arguably best known for its political humor, especially during these past two years.
What should I know about the nominees?
But of course, the most important part of the night is finding out who takes home the big awards. This year has the potential to make history in a bunch of ways. Even just looking at the nominations reveals some pretty big shocks.
For the first time in years, perennial frontrunner HBO is not the most nominated network at the Emmys this year. Netflix actually managed to edge out HBO's 35 nominations by one, making it the most nominated network at the 2018 Emmys, thanks to the success of hit shows like The Crown, Godless, and Stranger Things. But the most nominated show of the year is still Game of Thrones, because of course it had to be Game of Thrones.
Sandra Oh also has the potential to make history as the first Asian-American woman to win the prized Outstanding Lead Actress in a Drama Series Emmy. Back when the Emmy nominations were announced back in July, Oh became the first Asian-American women to be nominated for the trophy due to her stunning performance on the spy thriller Killing Eve.
Find out what goes down at this year's Emmy Awards on Monday, Sept. 17 at 8 p.m. ET.