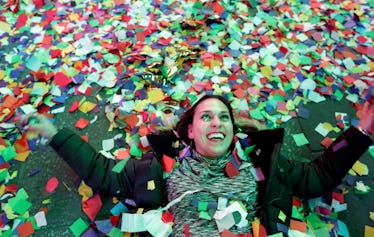 Here's How To Stream 'New Year's Rockin' Eve' So You Start 2018 On The Right Foot
Yana Paskova/Getty Images News/Getty Images
Somehow, on Dec. 31, every year, New Year's Eve rolls around. Usually, it's a night I stress out about. Where am I going? What am I doing? Who is going to be there? What do I wear? Will this even be fun? Does it involve standing in a really long line and freezing my ass off? Luckily, I'm older and wiser now. I've learned that all I really want is to stay home, get drunk with my dog, and watch the ball drop. If you're like me and wondering how to stream New Year's Rockin' Eve, I've got your sweet, sweatpants-wearing, pizza-ordering, sloppy back.
Our parents and grandparents remember it as Dick Clark's New Year's Rockin' Eve, but we know it as The Ryan Seacrest's Favorite Time To Show Off His Perfect Teeth Show. Seacrest has been hosting the main event from the center of Times Square in New York City for the past 12 years, and he is usually joined by co-host Jenny McCarthy. Also joining them this year is musician Ciara, who will be hosting the West Coast broadcast.
In fact, in 2005, Ciara performed her singles "Goodies" and "1, 2 Step" during the big New Year's event. This year, she says,
When I performed on this show back in 2005 I was so young and it was so special and exciting to be part of such an iconic show. Over 10 years later, it's a really great feeling to say I've had the opportunity to host and perform on the show and I can't wait to ring in the New Year with the world.
The entire show will run for a wild 5.5 hours, and will include live performances, audience interactions, and coverage of New Year's celebrations and parties around the world.
Co-executive producer and executive VP of programming and development at Dick Clark Productions, Mark Bracco, said,
We are excited to have Ryan and Jenny back in Times Square and are thrilled to welcome Ciara to the New Year's Rockin' Eve family as our West Coast host. An American tradition for 46 years, we look forward to an incredible night of entertainment, musical performances and New Year's Rockin' Eve celebrations that will unite the country from coast to coast.
If you're planning on tuning in, you can almost certainly anticipate some awesome fashion from the hosts and their guests, plus hilarious footage of freezing people in Times Square. As a New York native, I can tell you that once that crowd is in, those people aren't going anywhere. In fact — and this is just a fun insider deet from me to you — the local businesses and restaurants in the Time Square area shut down their bathrooms so that the masses can't come in and totally destroy them. So essentially, these people have to hold it for upwards of 12 hours, depending on when they get in.
I know, sounds like a party, right?
My favorite moment from last year is when Mariah Carey's track had some sort of malfunction, forcing her to actually sing, like IRL, instead of lip sync with her audio. Instead of doing her best to catch up and actually perform, she just stood there with her hands on her hips looking like she'd rather eat Seacrest's snazzy blazer than have to actually sing.
Ah. What magic.
All of this to say, if you want to make sure you don't miss one piece of confetti this year, you can watch the whole show go down on Sunday, Dec. 31 at 8 p.m. on ABC. Or, tune into Dick Clark's New Year's Rockin' Eve Live Stream or Time Square's webcam to feel like you're there!
HAPPY NEW YEAR! SMELL YA LATER, 2017!
Check out the entire Gen Why series and other videos on Facebook and the Bustle app across Apple TV, Roku, and Amazon Fire TV.