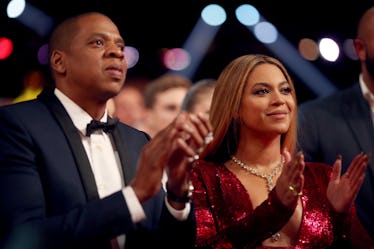 Here's How To Stream Bey & Jay's New Collaborative Album, 'Everything Is Love' – UPDATE
Christopher Polk/Getty Images Entertainment/Getty Images
While you were all out enjoying your summer barbecues, Beyoncé and JAY-Z released a surprise album, and you're probably freaking out trying to listen ASAP. So, if you're dying for an answer when it comes to how to stream Everything Is Love, you're going to want a TIDAL account ASAP.
UPDATE: Everything Is Love is now available for streaming on Spotify, Apple Music, Pandora Premium, and Amazon, as well as TIDAL.
EARLIER: The album dropped Saturday, June 16, to the shock of pretty much the entire internet, though you'd be hard-pressed to find a fan who wasn't delighted by the news of the new release. The famous couple, who just recently celebrated the first birthday of their twins Rumi and Sir, are in the midst of a world tour, dubbed On The Run II. So in between checking, refreshing, and learning every single lyric to every single song off the new album (don't lie, that's what you're doing right now and you know it), you're also probably going to want to keep eyes peeled how to get tickets to the OTRII tour when it comes to a city near you, because if you didn't already want to see JAY and Bey in concert, then you're definitely going to want to score tickets to see 'em now. (At least, I do???)
If tickets and a vacation to travel to wherever the Carters are headed next isn't exactly an option for you right now, you'll be relieved to know that Everything Is Love is streaming exclusively on TIDAL, the music-streaming service that JAY-Z launched in 2015, in partnership with tons of other artists (at the time, notably Rihanna and Kanye West). You can score a 30-day free trial of TIDAL if you aren't already a member, but I'm going to be honest: you're going to want a membership to the streaming service. It's where JAY-Z also houses all of his albums (a feature that isn't available on Spotify at the moment).
Elite Daily reached out to reps for the couple on when (and if) the album will be available on other widely-used streaming services, but had not yet heard back at the time of publication. Regardless, you're going to want to listen to the nine-track album. Like, immediately. Immmmmmediately.
In a series of tweets posted on Saturday, June 16, TIDAL confirmed the release of Everything Is Love, which catapulted the Beyhive into a stupor and sent devoted fans into a frenzy.
The tweets laid it out plain, and further confirmation came from Roc Nation's account:
Last night, June 15, Beyoncé and JAY-Z took to the stage in London for the fourth stop on their multi-city tour, running from June through October of 2018. The London leg of their tour featured an incredibly heartfelt moment of remembrance for the victims of the Grenfell fire. In a clip shared on Twitter by the account Justice4Grenfell, you can hear Bey sharing with the audience a touching response to those mourning the victims and the devastation, which claimed the lives of 72 people and left injured 70 more.
In the tweet, Beyoncé says, "This goes out to the family and friends of the victims of the Grenfell fire, God bless you," before she then begins a truly heartfelt rendition of the crowd-favorite "Forever Young." To top the performance off, the parents of three held hands throughout the song.
You can watch the touching clip below:
The title for the new joint release from the King and Queen of music (yep — I said it, and I'll defend it till I'm blue in the face — and FWIW, I'd come back from the dead to haunt anyone who dared disagree with me on this) is especially important, as it was released in June during the monthly celebration of LGBTQIA+ rights, visibility, and freedoms. (Pride Month is also a poignant reminder of all the work still left to do for the rights, visibility, and freedoms of LGBTQIA+ individuals.)
I'm not sure about you, but here's to the Carters and to Everything Is Love. Long may they reign.