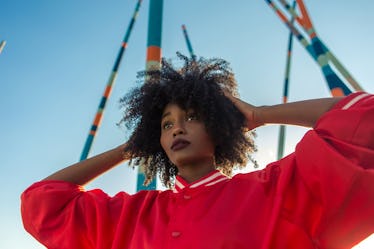 If You're Constantly Overthinking Everything, Try This To Chill Out
To call me an over-thinker would be a serious understatement. No joke here, some days, it is not fun to be up in my brain, because it just feels like I am on a bad carnival ride that will not stop. Whether it's simply a crush I can't get out of my head, or some (seemingly) massive existential woe, I can really drive my thoughts into the ground. Learning how to stop overthinking has been and will continue to be a process of incorporating tools and tricks to give my mind a little solace.
Now, my therapist calls what I do when I'm really stuck in overthinking, "ruminating." Not surprisingly, habitually and cyclically concentrating on negative or worried thoughts is straight-up bad for your mental health, according to Psychology Today. In fact, according to the results of a 2013 study published in the Journal of Abnormal Psychology, ruminating and overthinking were found to be a "well-established risk factor for the onset of major depression and anxiety" in both adults and adolescents.
So, if you struggle with overthinking much like myself, learning how to refocus or intercept the thought process is crucial for the sake of your well-being. Here are a few easy ways to stop overanalyzing and take things a bit more slowly.