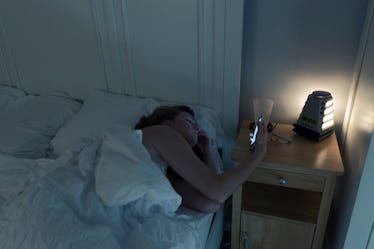 These Hacks Stop You From Oversleeping & They're All Backed By Science
When you're juggling work, friends, and a generally packed week of activities, oversleeping is the last thing you need to happen to you. The problem is it feels so d*mn good at the time; those additional 10-minute increments of sleep that you get with each press of the snooze button always come back to bite you. Sleeping through your alarm can cause you to miss your workout, be late to a meeting, or generally start your day on the wrong foot. But here's the good news: There are easy ways to learn how to stop oversleeping — that is, if you're willing to part with all those snooze sessions.
One of the main problems that contributes to oversleeping is a general lack of sleep to begin with. If you're going to sleep around midnight every night, then your body will most likely want to sleep until at least 8 a.m. to get those seven to eight hours of sleep the average person needs. The best thing you can do is try to go to sleep earlier, so that your body feels well-rested by your actual wake-up time.
But if that's not working, there are plenty of other ways to hack your wake-up routine. Here are five easy ways to never oversleep again, all backed by science.