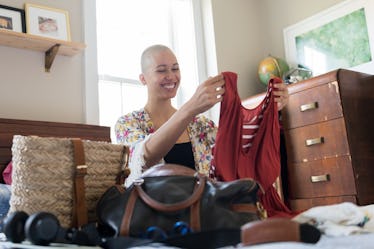 Staying Organized In Your Hotel Room Won't Be A Struggle With These 8 Easy Tips
Anytime you're living out of your luggage on vacation, you have two options. You can either do nothing, or get organized to ensure your stay feels like home sweet home. I'm definitely someone who immediately gets situated, and I know just how to stay organized in a hotel room like a pro.
Years of sharing hotel rooms with my dance team taught me that it's way better to take some time to put everything away when you arrive than potentially dealing with a big mess later on. I understand that a hotel stay is temporary, and you might think it's not worth getting all settled in when you'll need to put everything back later, but there are major benefits to getting organized in your new space. Instead of throwing things around while looking for certain outfits you're sure you packed, everything will have a place.
Bid farewell to rushing around and trying to figure out where all of your things are, because you'll know exactly where they are. If you need some help, consider following any or all of these eight tips. They'll make you feel right at home whenever you go back to the hotel room. So, get ready to go right into that #VacationMode.