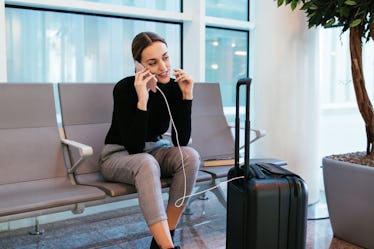 7 Things To Keep In Mind & Out Of Your Suitcase If You're An Overpacker
As much as I hate to admit it, packing can be a major struggle. My family and friends consider me to the be their resident packing expert whenever they need tips for a trip they're going on, and I'm always happy to help. But when it comes time for me to follow my own advice, I often come up short. I end up having to edit, then re-edit, all of my outfit decisions. Even though I still struggle at times, I think I've generally figured out how to avoid overpacking your suitcase.
Over time, I've started filtering out things like my fabric steamer and curling irons in favor of the hotel room hair dryers and iron, and I avoid packing an extra pair of shoes or jeans as much as possible. These omissions, along with little reminders to myself (like packing one less of something than I think I need), have helped me significantly reduce the amount of things I pack in my luggage on every trip. Packing the right way has seriously improved my stress level when I travel (which is great, because I travel often).
So, if you have trouble figuring out how to pack up your suitcase for your trips, try following these simple rules next time.