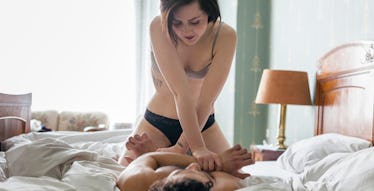 4 Tricks To Feel Way More Confident Asking For What You Want In The Bedroom
For some people, getting used to speaking up in the bedroom is a skill that needs practice, especially if you aren't usually the assertive type or are scared of what your partner may think of your desires. One of the most important things to remember is sex is about intimacy, closeness, and having a good time, so don't be afraid to get what you want out of it. Learning how to speak up about what you want is important (and not only in the bedroom) so it's actually a great time to practice and hone that skill. And you never know – something that you want in the bedroom could easily be something your partner wants as well, but they too, are afraid to voice it.
To get the lowdown on how how to really put yourself out there and ask for what you want, I spoke to sex expert and therapist Rachel Hoffman, who offered tips on things you should say to your partner to make the experience all the more pleasurable and fun for you – which, is the point, anyway. Here's what Hoffman had to say.